For those of you, contemplating how to make a good realistic looking fruit, or where to buy a leaf mold with good detail, or I even read it here before somebody was asking about a pine cone mold! It's all very much moldable! Is that a word? Not sure. I told Dominic I see things in 2 groups now
1. moldables, and 2. non-moldables! The moldable group is actually bigger than you think. So let me share a few tips and pics with you!

Let me start with leaves. This is a single sided press mold.
I used leaves, picked up from outside.
-Clean and dry your leaf.
Roll out some Safe D Clay to the thickness you want your mold's depth to be and and lay your leaf face down secure it with a thin layer of Anchor Dit. So the backside with strong vein details are showing. With a sharp tool cut around the leaf. Rub leaf with seal dit, thin. Use an Adjust-a-mold-box or any other self made walls around it that that's sealed, and pour your mixed copyflex. Don't make this mold too thick, it's easier to use when thin.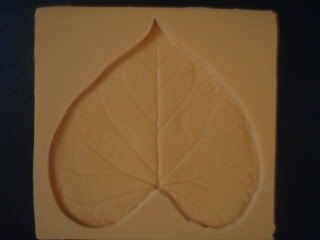 How about those pine cones? You can make them a one side or a 2 piece 3D mold. Only thing, you have to pick a pine cone that's very young and greenish, not yet opened. Make sure the wax from the tree is completely cleaned off, otherwise the silicone will not cure around it. Rub your cone with seal dit very thin, but everywhere, use a brush if needed. Make a thick block out of Safe D Clay and press the cone into it, in a way that only half will stay on the surface. We are molding one side at a time. Work the clay on the side to touch the cone everywhere and seal the bottom half completely into the clay bed. Brush it with some Silicone Spread thin, and let it half cure. It's ready when you touch it light with your fingertip and it won't stay on your finger but still feels sticky. Don't use this silicone thick, rather paint on in layers, and look for bubbles! Cover this with Silicone plastique and let it cure for 2 hours. Because you didn't let the spread cure completely it will grab onto the plastique and create a gorgeous detailed mold! If you want 3D you will have to go for the other side as well when the first one is complete.


If you wanted the old cone look, after making your edible pine cone of gum paste for example, use a small scissors and cut into it at those little blocks and lift it slightly.

Corn? I've made a corn on the cob, and built it up by the kernels. It took forever, then somebody asked me to make a corn mold. Hahah
So I bought a real corn, rubbed it with Seal Dit, and made a mold similar way then the one I mentioned above for the cone. It is way bigger obviously around 6", so I used the silicone nice and thin, and made a hard Shell with the EZ Shell maker. Just dip shell maker strips in water, smooth on and it gets hard and dry, this will hold a nice thin mold steady and in place. Use uncooked corn! Look how the top is opened, this way you can pour chocolate into it too if you want. Or isomalt. A nice glass looking corn? hahahaha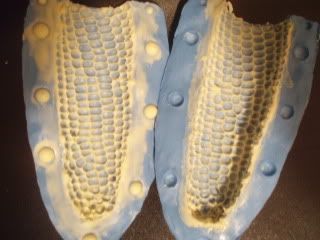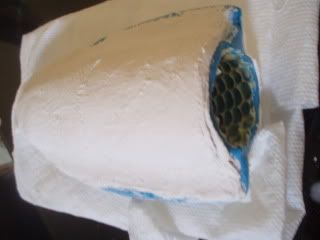 Strawberries anybody?
Same deal, just use a nice and hard one possibly. If it's too ripe, the skin can break very easy while molding, and it messes up the pattern. I molded different sizes of strawberries! They are so hot!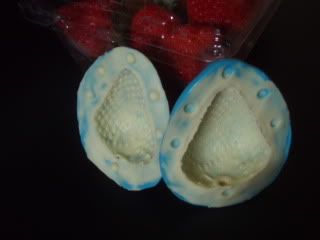 [/u]

I use only makeyourownmolds.com products by Dominic it never fails me, and they have everything you need to make your molds!
Let me know if you wanted more detailed instructions on any of these.
Hey! I love this!!!

I was looking for a product to use for making rosebud centers, as I don't like the styrofoam buds. I wanted something different. Most roses being taught don't have the look of shape that I want. I took some sugarpaste and made a two-part mold. The shape of the rose bud is beautiful, and with my arthritis, making my rose center this way is more attractive. I can manage the petals fine. I also took a few roses apart and studied the petals shapes. Most cutters leave room for shaping the petals when you are working with them. There are little curves that need to be cut into the petal. I can post a picture of what I mean tomorrow. It's a way to shape the bottom of the petal so that it wraps perfectly and doesn't bunch up where the petal and stem meet. It eliminates a problem that I see sugar flower artists make. They wrap the petal around the bud and have excess at the base to get rid of. If they look at now Momma Nature made the petal and shaped them, they might see a way to eliminate that. I think you do have to study the biology and structure of any flower that you want to mimic. It helps.
Marzipandoll - You are amazing. I think I have known you for a year and a half now and during that time you have become quite a skilled mold maker. I was recently talking to a customer of mine who mentioned that they had bought a mold from you. So, not only can mold making help with your own projects, you can also help others by making molds for them and creating a little side income for yourself at the same time. It is a real treat to see someone like you who gets it when it comes to making molds. You definitely have MMM (Mold Making Mania) real bad.


Dominic
Hahaha Dominic you warned me about the MMM and I don't think I believed you back then, but you were right. Again! Thanks so much for all the great tips, you definitely molded me into a MMM