I have a customer who is wanting this cake for her wedding....
I understand about the supports and everything needed for this cake. My question is how to cover this cake in fondant...Any ideas?
Also, would each tier be 4 layers or 6 layers on each tier?
Thanks!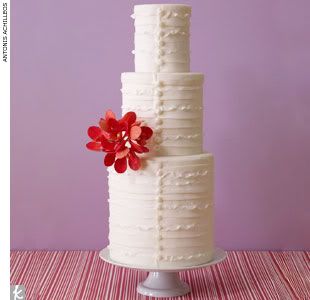 They appear progressively taller... 6", 7", 8".
It seems like each tier has more than 4 layer with the bottom one having more that 6 as well.

The fondant looks like individual horizontal stripes to be able to create a soft pleated effect.
So...if you do it with strips of fondant to make a layered frill look how do you do the top of each cake?
Thanks for the help!
I don't know, but to me looks like it is just buttercream with piping on the sides.
I could be wrong, but when I enlarged the pic that's what it appeared to be. Like CWR41 mentioned, I believe it is graduating sizes too. Sorry I can't be of more help. Good luck with this one!
Each one of the 3 tiers has two tiers on it (of 3-4 layers in each).

You have to separate the two "tiers" on each tier with cardboards so that it can be served. Otherwise they won't fit on the cake plate!

I think what you do is cover the top of your cake with a round of fondant, but go over/down about two inches.

Then you cut strips of fondant and frill them on one side, and start attaching them from the top of the cake, about one inch down.

Try to make the strips thin so that they don't weigh down the cake.

Not all the strips of fondant are frilled, only once every two of them.
@srkmilklady : I think the picture that she sent me is done with buttercream...I'm just not skilled with buttercream at all! lol I tell all of my customers that the only kind of cakes that I do are fondant...that way I'm satisfied with the end product! lol

@imagenthatnj : Thanks! That is kindof the idea i was leaning towards....I thought about trying to cover the whole thing, then go back with frill strips...idk...I'm worried because I have never done a cake of this height....
I enlarged on my 30 inch screen and it definitely looks like strips of fondant. The only buttercream that's there is the buttons simulating the buttons on a dress, where the fondant strips meet.

See if you can google "the caketress blog" and check her blog out. Her pictures are big and she works with a lot of ideas involving fabric-like ribbons, frills, etc.
I would roll the fondant on the overturned cake, vertically. The cake appears to be long and tubular. I would slightly freeze the cake and roll them like a log sideways (each layer)...i.e., like you would cover a can with paper....and cut each top (lid) separately. The frills...I will add with piping or roll out gumpaste...super thinly...like you would do to make a "frill" on a dress (toothpick) and add them on afterwords.