i need to make a soccer cake.I do not have a soccer pan.What is the best way to do this .Where can i get the pattern for the soccer ball.
I was thinking doing a ball on a sheet cake.But I also was thinking of doing just a soccer ball and add figures.
Not sure of the best way and really how to do it ?
Thanks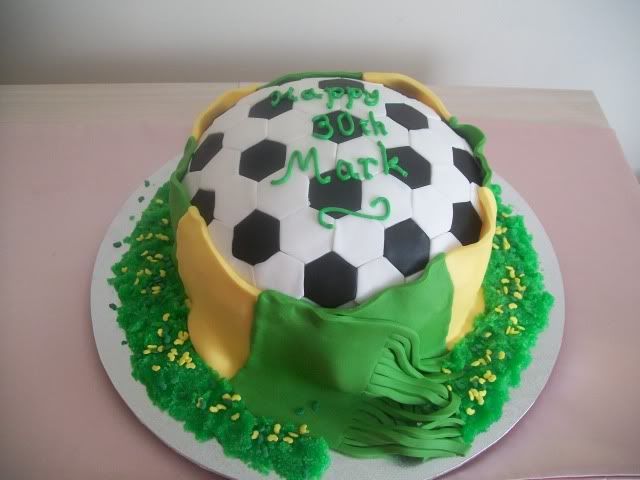 I did this one by filling the tin really high , I use a baking paper collar so it doesn't spill over as it rises, I also used and extra egg and changed my ratio of plain flour to self raising slightly so it would dome in the middle , I them just trimmed it slightly on top so it was nicely rounded , the sides didn't matter as they are covered with the scarf.
I used a round pan to make this one. I googled the design but I will tell you, it won't fit right. I started at the inner most piece, then added all the other black pieces & just winged it on the rest of the white pieces. used the template I would hold it up to the spot I wanted it to cover, then just adjusted the size while I was cutting it out. Takes a while but it is do-able!

http://cakecentral.com/gallery/1946321
Where did you get the pattern from ?
I like your idea.Did you make the cake from scratch or did you use a box cake.As you mentioned the adding of an extra egg.
yep , i made it from scratch, I rarely use box cakes . It was my basic mudcake cake recipe. the template , I just used some graph paper to make the hexagon, and traced it out on some baking paper then I looked at at a soccer ball to get the pattern,