Cupcake: Same Recipe - 1 Tough The Other Overflowed! Arrg!
Baking By acmomcee Updated 10 Feb 2011 , 7:03pm by LindaF144a
I used the "Hershey's Perfect Chocolate Cake" recipe but experimented on two different cocoa powders since Hershey's brand isn't available here in the UK (or too pricey).

To test, I used Green and Blacks and Tesco's cocoa powder.

With Green and Blacks, I omitted the baking soda because as how I understood it, it should be left out when the cocoa is dutch processed. I baked at 350F for about 18-20 mins. THE RESULT - top was not springy, but crusty; tough cupcake and only the middle part domed and the height of the sides remained. I was actually aiming for flat topped cupcakes.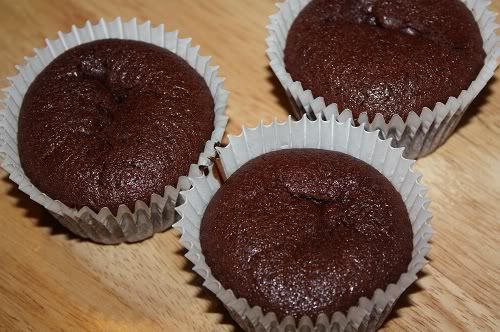 With Tesco's (local brand), since I'm not sure if it's a dutch processed or not, I added the baking soda. I also experimented with the temperature that instead of 350F, I baked them at 325F. THE RESULT - springy texture, spongy cupcake, sides rose evenly until the next 8 minutes where the insides overflowed. It was close to perfect, but I was shocked to see that they all went out of their cases.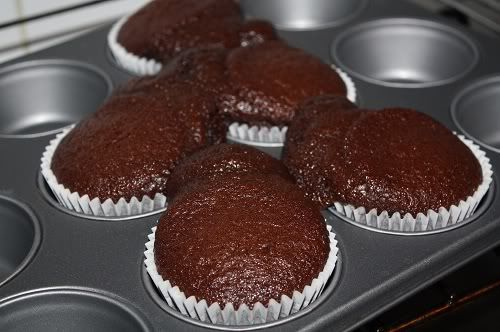 With the taste, I guess the Green and Blacks (more expensive brand) tastes a bit better, though not much difference.

What did I do wrong?
I believe baking soda has something to do with both, but what should I do next time? Thanks in advance for your help.
I don't have all the answers for you, except to say that I did an experiment on oven temperatures once. I cooked one batch (of the same batter) at a hotter temperature. The hotter temp domed up nicely, and was all good. the lower temp rose too slowly while the batter was still sloppy, so it spilled over the edge.

Just in case it helps to explain your spillage!
I have been using the same recipe on large cake tins with the tesco choclate, the taste is fine but i get the same dome and flat sides. I know you have quoted in Farenheight so I assume your not a gas cooker?

We have a gas cooker and I am pretty convinced thats were my cakes go wrong as it just doesnt cook evenly! (We have this problem with everything that needs to be baked...not just cakes!!)

Hopefully folk on here will have some helpful ideas


xxx
hi zespri! so, the temperature might be one of the faults too. thanks so much for pointing that out. was just thinking that maybe when I lowered the heat, the sides will rise together with the middle - which it did, but I wasn't expecting the spillage.
Will just stick with the 350F next time then.
Thanks sam! I am actually used to celcius, but the recipe is from the US and uses fahrenheit, so I relied to it using my newly bought oven thermometer. I use electric oven.

Would you prefer Tesco's over Green and Blacks?
I havent tried the green and blacks although now I am feeling inspired to give it a go! I know its a no-no but I generally go for cheaper ingredients as I am only a hobby baker and money is precious (saving for a house, crashing my car and so on).

I've always made and served with the Tesco powder and had no complaints


Will let you know if I get round to trying the Green and Blacks and the preference from my 'tasting panel' (family!)

xxx
No help for a solution. But I can tell you that my DH tells me that when you do an experiment, you must only change one variable at a time to see if you get the results you want. In your case you changed three - baking soda, chocolate used and oven temp. It is hard to say which one caused the different results.

That recipe has both leavening in it because I believe that Hershey chocolate is a combination of dutch processed and regular. And I have experimented a lot with chocolate cakes and the leavening in them. Bottom line I have decided is to not mess with the leavening. Because I have gotten everything from pancakes, to explosion, to so dry you can't even chew it. What looks like it might be overleavened is actually a perfect balance for the cake. I can't figure out why. I do know that one of the little known facts about leavening is that is acts as a tenderizer too to both help raise the cake and for moisture content.

Were this my test, I would at least go back and make the recipe as written. You need a base to start with before you tweek. For all you know the original may work with all varieties of cocoa. Without trying it as written, you will never know.

Boy ask me how I learned this lesson!
It was definitely the hard way.