I'm doing a "Winter Wonderland" wedding cake on the 19th. The idea is a 3 tier cake sprayed in pearl then have a tree piped on each tier then painted a light silver. As a topper I want to make a white tree out of either fondant or gumpaste or modeling chocolate. I want the topper to be white so I can spray with the pearl and be the same color-ish as the cake. So my questions are...painting buttercream, any tips? I've done it a little bit, mostly it's been fondant. I figure it just needs to be lightly tinted and crusted. My major question is this topper! How to? My thought is a PVC then wires bent to form, then covered....am I on track? What would you use to cover? Any other tips or issues you can think of that I may run into? Thanks a bunch!
You want a regular tree, not a pine tree, is that correct? I made one. I cut 100 pieces of wire, wrapped another piece around that. Then I began separating the wires into groups of 2 and 3 wires to make all the branches, bending them into shape, then covered them in modeling chocolate. You can certainly do it all white if you want. If this sounds like what you are looking for and need photos, I do have some of the tree in the wire stage and then covered in modeling chocolate; you can pm me with your email and I'll send them to you.
I sent you 4 photos. Can't get them ever to attach to a post. Let us know if that is what you are looking for. If not, then maybe we can help figure out something else for you.
I have never decorated a cake with this but have used it for other occasions. The white Easter egg tree that you can find at craft stores might give you the effect without all the hassle of making one yourself. I am able to move the branches and spray paint it.
Hope this helps
Joanne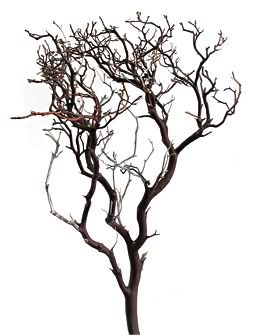 This is the pic the bride sent of the trees she's using at her reception, she's painting them white. I don't have to copy it or anything, but just to give an idea.

Thanks crownsj! The pictures you sent were helpful. I want the branches to be thin and have a whispiness to them. Do you think that'll be possible?
Absolutely you could do it. Just use a heavier guage wire that will hold up with the weight of fondant/modeling chocolate or whatever you use to cover it. Then you can twist the wires together for where the branch is a bit thicker, and the single thickness for the wispier ones. You might even want to try candy melts to see if they stick. If they do, you could get it the branches probably even thinner.

It's a quick process too, so you could make it now and know if it will work. The one I made is still like it was when I made it last summer. (It was for a neighbor)

I like the look of that branch, but I'd bet you could come very close to duplicating it.
Have been looking alllllll day for ideas on how to make this tree - knew I could wing it but love it when I find ideas from those that have gone before!!! Now I can't wait to get to Hobby Lobby and see if they have the Easter Egg tree to make my job even easier! Many thanks!