Hi! Forgive a question for my first post...

I decorate gingerbread with royal icing. I haven't been doing it that long, but I hadn't really had any problems with it until just before Christmas.

I had lots of biscuits to do for a craft fair, and also for my Gran's 95th birthday - and all of a sudden my icing started going funny. It seems to go really blotchy - it looks like it's completely dried out, and looks most unattractive - even though it actually tastes completely fine!

I did a couple of these in a lovely dark purple colour - but the purple was the first colour to 'go', but lots of other colours 'went' too - including the white in places. These photos were taken quite early though - so lots of them are still OK. You can see the dark purple in the 2nd photo - and the horrible purple in the top photo. Almost every colour dried badly in the end. The stocking shows it really clearly.

I use a ready made royal icing powder (Silver Spoon - I'm based in the UK), and Sugarflair colouring paste (this might be UK only?).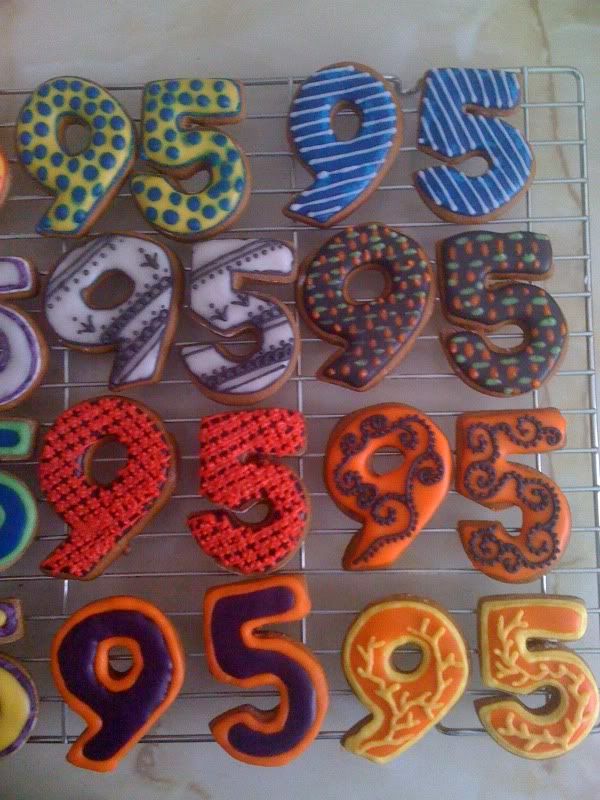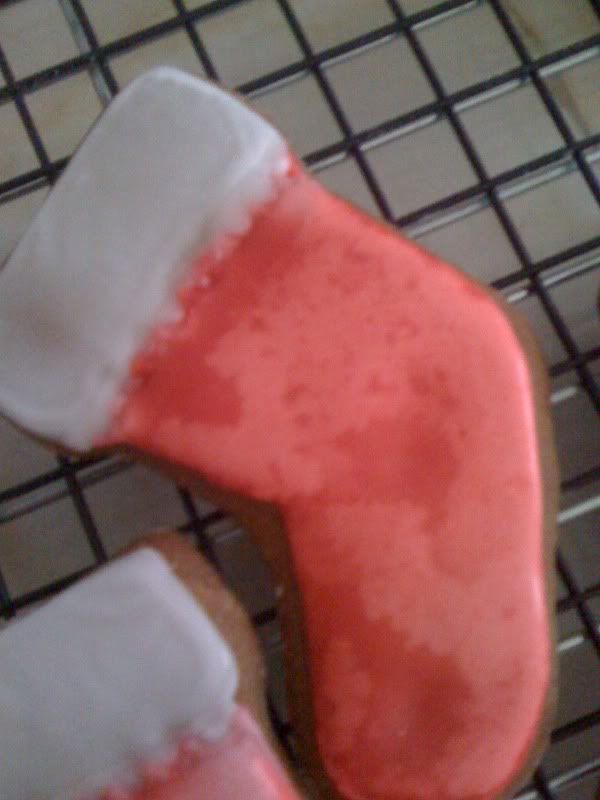 I've been trying to figure out what the problem is. I haven't changed anything in the recipe, or the process. The only thing that's changed is that it was really cold before Christmas - and my house isn't warm!! Could this have affected them?

Any help would be gratefully received! I have loads of decorations to do over the next couple of months, and can't afford for them to look like this!

Thank you!
Perhaps the icing is separating or the coloring wasn't mixed in thoroughly. I've had that happen to me before and it was because it needed mixed again.
I had some left over royal-iced cookies that I stored temporarily in the refrigerator. Same thing happened, so I'm wondering if you are right in that it was the cold temperature.
Thank you both!

I'm hoping that really is all it is.

I've made a load of new cookies this afternoon, so we'll see what happens to them - it's nowhere near as cold now.

@Cheatize - why does royal icing separate?... or more importantly, what should I be doing to make sure it never does?!

I'm entirely self taught, and have very few people around me to fire my endless questions at!
Hmm, good question for which I have no real answer. I'm sure it's something scientific. Doesn't pretty much anything that's liquid or semi-liquid separate eventually? If I had to guess (and please know that I stink at science), I would say that it happens because it's a suspension. In other words, it's not completely dissolved so that everything becomes one. It's suspended in there. I'm probably completely off-base, though. All I know for sure is that it does. If I leave it overnight, I have to mix it again the next morning. To a much lesser extent, even my buttercream does this. If I let it sit overnight, I give it a quick stir before I use it again.