What do I use to make shiny silver pearls? Shiny like chrome. I don't want to use the hard silver dragees. I was planning to make white fondant pearls and airbrush or paint them silver. Ideas?
if you're using airbrush then i would use the silver airbrush color. if you're painting them you can either use the airbrush color or mix vodka with luster dust and hand paint.
I'd colour them grey first too, helps give a stronger colour.
xx
I recently made my own "dragees".

I rolled grey fondant balls (cut out using a #6 Wilton tip from a sheet of rolled out fondant) and let them dry for about an hour. I sprayed them with some Everclear and then rolled them in some Crystal Colors Bright Silver--FDA approved edible luster dust by sugarpaste.com--in a ziploc baggie.

I took them out of the bag and "buffed" them in a soft paper towel.

I was very happy with the results. The cake was a 9x4 quilted round and I used about 100 pearls.

HTH
Rae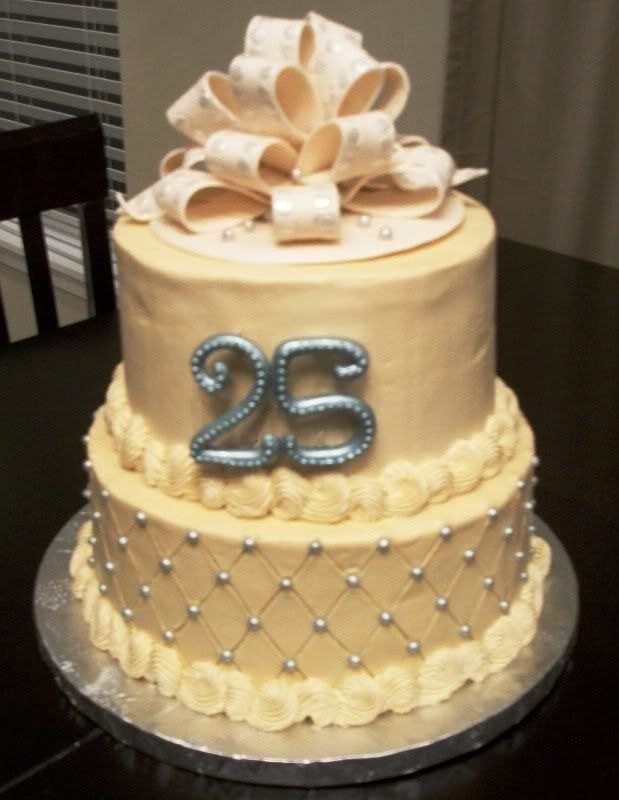 you can buy some silver dragees.
Quote:
Originally Posted by sugarlover

you can buy some silver dragees.



Right....but they're not soft-ish and, technically, are "for decoration only". There's some concern about the safety of the metallic material used to cover them.
Being so hard, they can also be tough on the teeth--a possible liability issue.

When I've used purchased dragees, I tell people to remove them before serving--more for the teeth reason than anything else. If I make my own, I don't have to do that and I don't worry about anyone eating them.

Rae
ooooh Rae! your pearls are beautiful...thanks for the tip!
you can also , just put your pearls in the plastic bag with the silver dust and a few drops of everclear or vodka. Then shake and roll them around. i seen this on one of nick lodges dvd's.
Thanks for all the helpful responses! If I succeed, I'll post a photo of the cake.