I've work SOOO hard this week !!

A few weeks ago, I've got the idea to do small bags of 12 minis cookies..
I wasn't sure it would be a hit.. I also did pumpkin on a stick...

Do you know how many bags I did?
100 !!!!!
I took reservations for only 2 weeks. So that's 1200 minis cookies !! I wanted to DIE !!!!!! But i'm happy about the success! Now I know that I will never do again bags of mini cookies as a promo for big celebrations
And I did 40 lollipop..
I've done a pic of the bags for the reservations but not for the lollipop..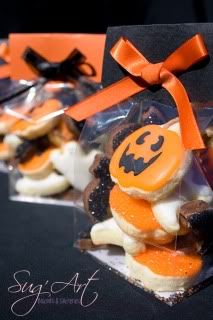 They look cute! Enjoy your weekend now that the cookies are done~!
Super job! Can't imagine doing all those cookies by myself.
they look GREAT!!.. What kind of icing did you use. it looks so smooth.
Thanks !
My sister helps me out for packing about 35 of them.. but that's the only help I've got!

I use glace and the pumpkin face is royal icing (stencil).
They look great, now sit back and relax. How many hours do you think you spent icing them? not to mention the baking and the packaging time... its the packaging that I always forget to allow enough time for... well done..