Good morning everyone, TGIF!
I'm looking for help in how to get the coloring effect on the band of this watch. The blank outline portion and the marble-ish coloring... It's kind of snakeskin-loooking to me but not at the same time. It reminds me of a sponge effect but not sure how to get the black outlines without making a mess!

Any suggestions?
The watch will be about actual sized, maybe a little bigger and likely made from fondant or 50/50, the cake will be the watch box...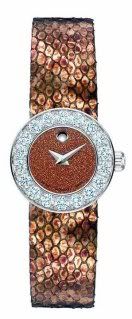 If I were making this, I'd make the watch band in black. Then I'd use a tear drop shaped cutter or a circle cutter and make a bunch of cut outs from ivory colored fondant.

If you use a circle cutter, you cut skew the shape by rolling the bottom portion of the circle with a roller. Alternatively, you may have a leaf cutter that is close to this shape too.

Then attach those to the black watch band and hand paint the variations in color with some pearl dusts and food coloring (mixed with vodka or lemon extract).
I'd do as Carla suggested (ie make the band black and then stick the 'spots' on), but I'd probably cut the spots out of marbled fondant and then paint them with the extra colouring/pearl dust as needed to get the effect you want. Using marbled fondant with give the spots more natural variation.
EXCELLENT suggestions, thank you both so much, I think the black background with the 'spots' added on is just the trick... I didn't want to have to resport to wallpapering the bands with edible images!

Feeling pretty good about it now, thanks again!
Good call on the marbling idea Coral! That would be good, then pearlize over that. Right on.