first I want to say hello and I am so thankful!!!! I found this site a few days ago.. have learned so much already

I have taken the wilton classes at my local michaels and have done some cakes for friends and family but nothing extravegant


so ..

my sons girlfriend is turning 16 and her mom asked me if I would make her cake.. of course I will I love doing it...

she asked if I could put a "converse" tennis shoe on yop... I was thinking I would just transfer on and pipe it out.. but then maybe I could make one out of rice crispies and cover it in fondant? is this possible? it prolly is but I wouldnt know where to begin really..lol..

any advice is appreciated but.. just wanted to say hi anyways
You should be able to make one out of a rectangular cake by carving it. Here is a video:
http://www.how2cakes.com/converse.html

We actually made a Converse 2-D cake last year, it was gluten-free too. This one was made with BC only, no fondant.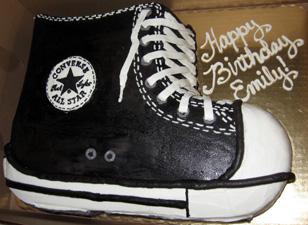 that is sooo awesome!! thx.. I am going to watch it and see.. super cool looking cake!
wow.. that may be out of my scope of capability
.. that is awesome
the finishes product.. not too bad for my first attempt