The great thing about being in the military life is having friends all over the world, which means friends in all different time zones.

We got word from a friend at 6:30 this morning that my husband passed his test and is being promoted to Staff Sergeant! He studied his butt off for over a month, but when he heard they raised the cutoff, he was kind of worried (but trying not to show it... men!
)

Anyway, I'm so happy that his hard work paid off and had to share my excitement! Here he is on his way to work this morning (he was annoyed I wanted a picture, but a man in uniform on a Harley is too hot for me not to want a picture of it!
)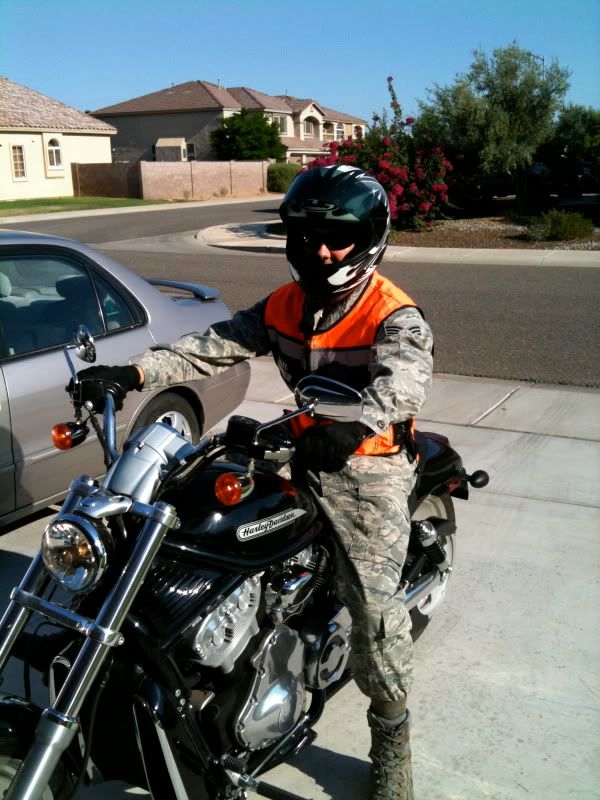 Congratulations from one AF wife to another!! I have one of those men in uniform on a motorcycle too. We have to be proud of them every day.
Quote:
Originally Posted by DsLady614

Congratulations from one AF wife to another!! I have one of those men in uniform on a motorcycle too. We have to be proud of them every day.



Ain't that the truth! Where are you guys stationed at? We're at Luke in AZ.
Scott in Illinois. I envy you being in Arizona... sort of! LOL

I think you guys are just getting started in the AF where we are almost to the end of my husbands career.
We had Scott at the top of our list (we're from MI and wanted to be closer to home) so of course they sent us all the way out here!

My husband has been in for around 3.5 years, and right now we don't know how long he's going to stay in. He just did a year at Osan and hated every single day of it and couldn't stop talking about getting out. He likes Luke a lot so far (though we're still getting used to all this heat!) and hopefully once he actually puts on Staff in the spring, all the complaints he has about his job will be mostly resolved.
Once my husband got to work and was able to get on a computer, he found out that not only did he pass the test, he kicked its butt! He scored the highest out of everyone in Ammo... in the world. My honey is #1!

Extra proud of his hard work
Congrats!!! I love men in uniform!! And the Harley tops it off. We havent gotten to the Harley part yet. But almost. Maybe when we get back to the states.

DsLady614-- Scott was out first base and then we got orders to Japan. We have been here for a little over 2 years. Oh how I wish I could go back to Scott. We are here for another 2 years- cant wait to find out what our next station is.
Tell him not to give up!! One bad assignment shouldn't end a what is really a promising career. Sad thing is, the military is really a pretty stable place to be right now. Considering how hard it is to find work out there right now, I'm so grateful my husband is in the AF. We've been at Scott for over a year and I still haven't found work. Hopefully, this promotion and an assignment he likes will help him stick with it.

Funny thing is, after a year here, I'd move. I'm sure a lot of it has to do with not working. But the weather is awful for me. I HATE humidity!!!