Hi!! I'm a newbie here! and I'm in some desperate need for some help! i'm Trying to make a Hello Kitty Head cake, ( not so it's flat but 3D like) I CAN'T figure out how to to put one together any suggestions?? Thank you!! =]

Here's a picture of what i'm trying to do...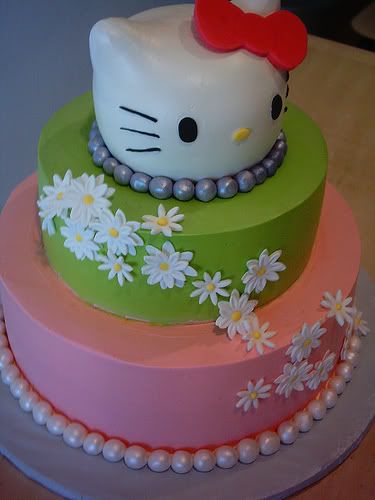 If the two bottom cakes give you the required number of servings then..I would say make the kitty out of RKT or Styrofoam... good luck
It looks like a tall round cake with the ears added. You can add them with pieces of cake or RKT.
Thanks guys!! Both of those answers helped! If i do decide to make it out of RKT , how do i cover it with fondant?? do i crum coat it like i would a cake? thanks! =]
Yes, crumb coat it well and then fondant it as one piece so there isn't a seam at the bottom of the ears (if only the ears are RKT). If it is all RKT, crumbcoat the whole thing at once and then fondant it all at once.
Swwwweeeeett!! I can't wait to try it!! Is there anything i need to know about working with RKT ?? or any tips??
how did it work out because I have to do the same.....thanks for your help