I am making a guitar cake and I can't think of what to use for the strings. I made one before and just piped them and they broke.
so Help!!

Thanks
Brandi
i made one and used silver painted spaghetti (in my photos)
I was going to suggest spaghetti!
On mine I used a clay extruder and fondant, but they sagged. Spagetti wasn't long enough.
I just got done with my guitar cake for this weekend. It was alot of work and alot of fun. Turned out great. Don't have pics yet :0) I used dental floss for the strings. It works really great. Of course the bride is informed of this, so they know they have to remove the dental floss and the toothpicks, which are hiden under the fondant pieces to keep them tight. It looks just like real guitar strings, no sagging at all. I also was informed of unbreakable gel, but I never got around to making it, even thou, it doesn't take that long to do. So I haven't tried that yet. So if you do use this method, make sure they sign a release form that they know about this. I'm also writing a small information envolpe for the reception site to leave with the cake. I am covering all the bases, don't want anyone to eat something they shouldn't. I usually like everyone else, don't like to do anything but all edible art on my cakes, but this was one thing I wanted to really look good, and it does. Good luck and happy cake decorating
thank you everyone! I think I will use spaghetti
what do you paint it with?
I used vodka and luster dust and stuck them in a styrofoam to dry.
I use extruded fondant on my guitar cakes. The only thing I can say is do the strings at the venue. I did them before hand once and they broke from the bouncing (even a little) in the car. There are several pics of guitar cakes in my photos. I use grey and then silver luster to paint them once they are on.
what is unbreakable gel? how do you make it? or where do you buy it?
thanks
Hi Brandi,

Here's an option for your guitar strings - comb SugarVeil into lines (use the "Heavy Lines" or "Deep Lines" edge of the Confectionery Comb, and allow the lines to set. If you'd like to paint them silver, mix grain alcohol (Everclear) with the silver dust and then paint over the set lines before removing them from the mat.

Here are a few photos for you.

Michele at SugarVeil
[email protected]
www.sugarveil.com

You can make unbreakable gel by mixing tylose with water and piping it out, then letting it dry for a while. If you let it dry out completely it will be really stiff and shrink a little, though, so make sure it's totally dry before you put it on the cake.
thank you costumeczar.....I appreciate it
nancy
I have done two guitar cakes. I used spaghetti strings on the first one, and I had the hardest time making them line up straight. The second one, I used gumpaste for the end pieces and actually threaded them with silver metallic thread. They looked great!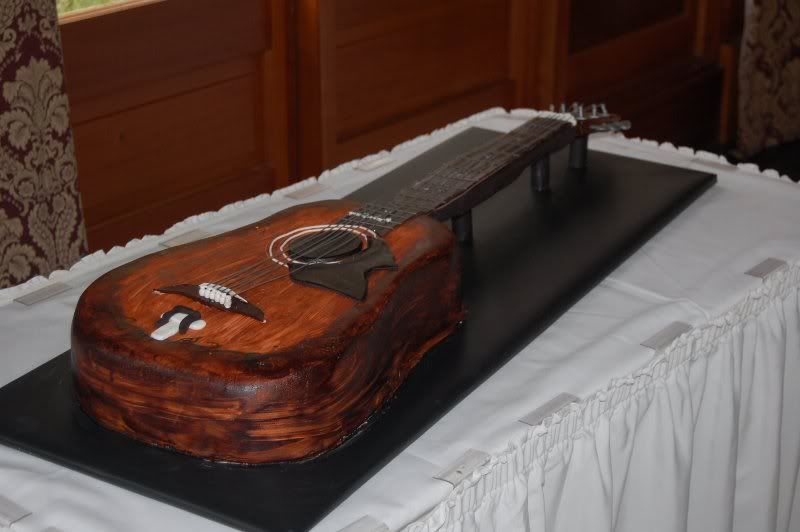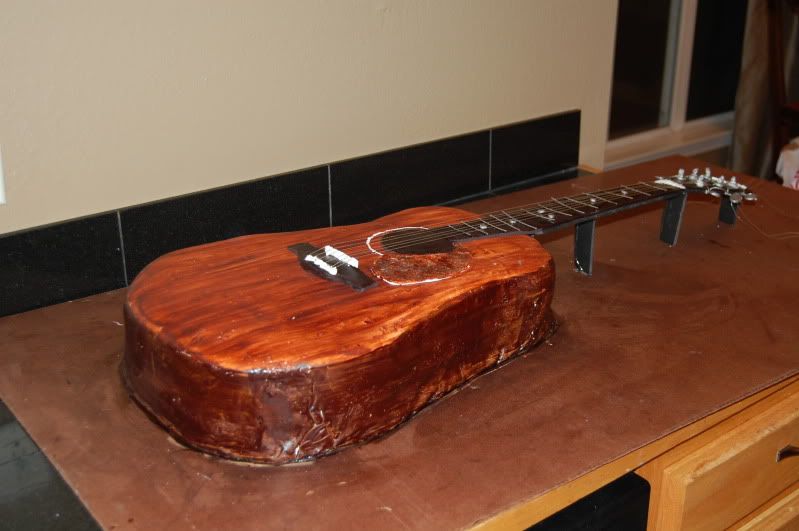 [/img]
That reminded me that I've also used kite string painted with silver luster dust before. That looks good because the kite string is smooth and about the right thickness for guitar strings.