Today I had my first tasting for a wedding cake. I didn't know what I was supposed to do, so I made 4 3x3 cakes. Two flavors were ones that I thought would be a little more interesting, and 2 were really safe. Luckily, they absolutely loved all of them.

This is the cake that was the bride's inspiration: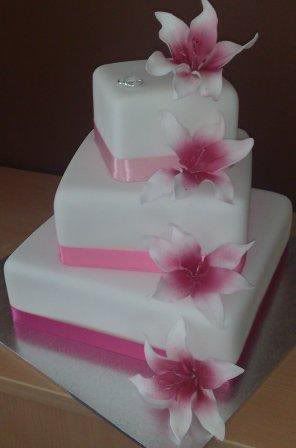 Instead of the lilies, there will be silk gerbera daisies in various colors (green, orange, pink, blue) as well as ribbons using the same color palate. The top 6" tier will be saved for their anniversary, and the 8" tier will be served to their bridal party and immediate family members. The bottom 10" tier will be a dummy, just to bulk it up. They are getting sheet cakes from their caterer's wife for everyone else.

I know there are so many people here who have done eleventy billion wedding cakes in their day, but I'm still over the moon about this. They are going to have pictures of this for the rest of their lives.

The bride is someone I was friends with in high school, but lost touch with over the last few years. She is such a great person who was really there for me once upon a time, and I never thought I'd be able to repay the kindness. I'm more than happy to finally be able to do it.

Sorry, thanks for reading my long boring post. I'm just walking on sunshine about my first wedding cake!
Well Congratulations!!!

Im sure it will be a beautiful cake.
That sounds beautiful! :] I can imagine how excited you are! Let us know how it turns out!
Don't apologize--it was NOT long and boring! LOL
You sound so happy and appreciative of this person's involvement in your life, even in high school. I think it's cool everything has come full circle, and I guarantee you it WILL come out in your cake!


Oh, and I'm impressed, btw. My first wedding cake is this weekend and I'm nervous!
You sound like the picture of calm!
Im sure you will do a beautiful job!! My firdtwas my sons wedding cake 2 years ago , it is the fall wedding cake in my pics!!

Good luck and have fun!!!
Congratulations!!! You will never forget your first one!
It sounds like it will be a really pretty cake - can't wait to see pics of it.
Wow! Congratulations, I just did my first wedding cake today for a very small ceremony. I was so worry, but it turn out really nice. Good luck on your first cake!!!!!, break a leg!!!! Send pics!!!
Thanks for sharing your story -- it was not long and boring!

I don't think anyone will ever ask me to do a wedding cake, so I'm living vicariously through you and I'm excited, too!!!
Yay!! The first wedding cake I did I was a nervous wreck but it turned out great. Look up SPS and practice, practice.
Thanks for the kind words everyone
Here she is, my first wedding cake: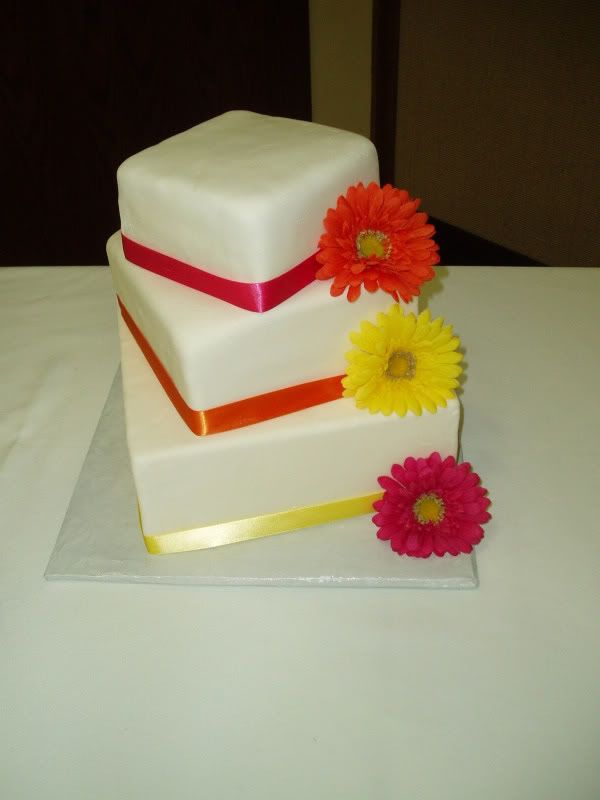 I was told that the flowers were waiting at the venue for me, and they weren't. I had to wait almost 2 hours for someone to bring them, but it was okay, I just wanted a picture of my completed cake.

The bride and her maid of honor (both friends of mine from high school) thought it was great, and the groom was absolutely blown away. "Look at that CAKE! It looks AMAZING!" So, hearing that they were happy made me happy and all of the stress worth it.

I just used wooden dowels and it was completely fine. I thought I was going to assemble on site, but at the last minute decided it would be easier just to bring it there completed. Had I known I was going to wait, I would have assembled it there just to have something to do


I know its not a million dollar cake, and I can point out at least 20 flaws in it, but overall I'm pretty happy with how it came out!
Nicely done--congratulations!