How do I get rid of this?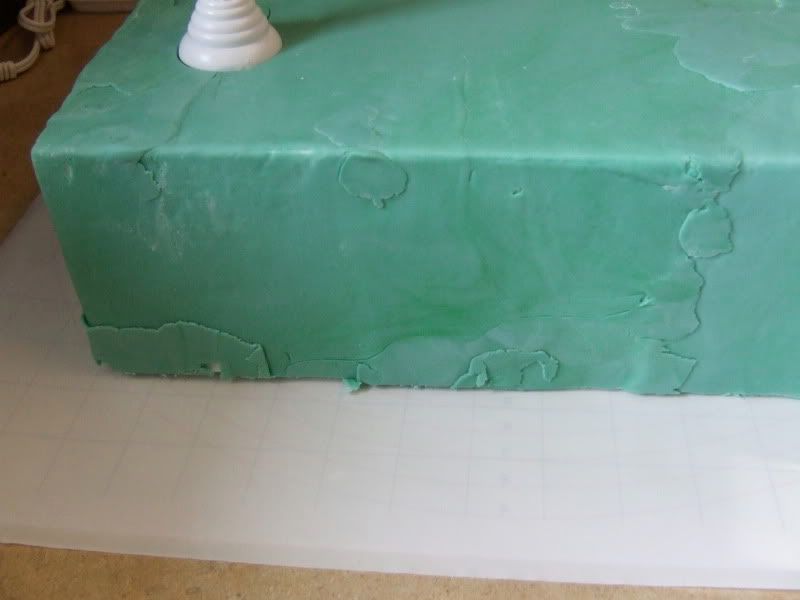 I don't want to roll it out again and I know if I did it would just do the same thing. I rolled it out a couple times and it was not covering the cake until I realized my fake cake was 4 in high not 3 in high. Then I realized my rolling mat is not big enough so I put some contact paper on the counter, but when I rolled it onto my rolling pin it stuck together and I ended up with this.
I'm sorry, but for it to look perfectly smooth, you will have to reroll out. You can keep rubbing it, and that will help, but it won't look smooth. Sorry.
I agree with LaBellaFlor. You will need to roll out the fondant again if you want a smooth look.
To me it looks like a combination of two things.

1) Your fondant looks dry and cracked. I would knead some shortening into it to make it really pliable.

2) It looks like you've rolled the fondant too thin, which makes it more prone to tearing.

I don't think you'll be able to smooth what you've already got there. Save yourself the headache of trying, and just re-roll.

Good luck to you!
Bummer, I think its just I don't have enough, I'm going to have to kneed it some more white and kneed in some shortening. I'm putting this away until later.
Also, you can try just dusting your countertop with powdered sugar and rolling it directly on your counter verfsus the mat. I find mats frustrating when rolling out fondant because they tend to slide and move. I just give my workspace a good dusting and it gives you much more room to roll out on.
But then how do you get it up to put onto the cake?
Quote:
Originally Posted by Alaskahsm

But then how do you get it up to put onto the cake?



I use my counter top as well and to put it onto the cake I lightly dust the top of the fondant with PS or CS and then just roll it onto my rolling pin...

then I just line up the edges nd unroll in right onto my cake


HTH
Where's the snacking yourself in the head icon. THAT was my problem. Everything was nice and smooth until I tried to put it on the cake and then it stuck to itself.

Sometimes its the simplest solution.
I have a piece of thick clear vinyl cut to the size of my countertop. It's like a giant mat that never moves...in fact, it's so much easier to clean than the plain countertop that it's become a permanent feature in my kitchen. Anyhow, fondant doesn't stick to it at all, and if you're not confident with rolling up the fondant over the rolling pin (or if you don't have a long straight rolling pin to use for it) you can lift the vinyl and flip the fondant over the cake.
Have you tried putting it on in sections. Because it is square you can cut each side, maybe a 1/4 to 1/2 inch longer around and then place on a cookie sheet and put it in the freezer for 20 minutes. When you take it out apply some water and smooth each side separately, cut down the edges where the two sides meet for a seamless finish. That way you can concentrate on rolling each piece smooth. The freezer helps it firm up a bit so it won't tear when you put it on.

I just did this last week and it worked great, sorry don't have a picture to put up yet. I saw this technique on Pink Cake Box's blog when she showed a video of her doing a shoe box cake. I did it for a 10" square cake that was 4" tall. Hope this makes sense and helps. Check out the blog and it will help i promise!
Thank you all so much. I have to admit I have been discouraged posting here at times, because sometimes it seems like no one is listening. Obviously you all were today. I went and redid it and I am much happier with it. Its not perfect, but once I added (a ton) of shortening and cornstarched it to death before rolling it up, things went on much easier. Do you ever feel like you need about ten more hands. Thankfully my daughter was there to hold the dummy still.

Covering a dummy is tough if you are trying to do it on the counter and it is not attached to anything. Since dummies are so light, they just slide all over when tryign to ice or put fondant on. I had my hubby build me a special turntable just for dummies that has 3 long screws coming out of the top of the turntable and then I just pierce the cake dummy onto the screws and wallah is stays in place and makes it possible for me to not need anyone there to keep it still. Just an idea. Your updated photo looks like you had much better success this time! Good job!
I always attach my dummies to a cake board or work surface with a blob of fondant. Otherwise you end up chasing it all over the bench top
Okay I'm officially going to scream now. I finally got the top put together then put it onto my beautiful cake board (this is for a cake show) only to discover my board is an inch too small. I'm not redoing the board so its just going to be that way. This is my first show and I didn't expect to place anyway, but this thing has given me so many problems.