Help, can anyone tell/show me how to cover odd shaped cakes with fondant, such as round ball, 3-d triangles and character cakes without squashing or misshaping the cake? Thanks
I have trouble with that also but sometimes like with my purse, shoes, tractor cakes, I had to cut pieces to match instead of using all one piece. Maybe someone else will jump in and give you more advice, good luck
I will need to know about this too. Please someone Help!

Thanks
Make sure the cake is slightly chilled and take your time. Always do the corners and sharp angles first. Also while I like my fondant very thin, on weird shapes I tend to go a little thicker. hth
I think it's too difficult. I cover odd shapes all the time, but always with some kind of accents to hide things

In this page I have posted 2 pictorials of two of those cakes (one in top and the other at the end of the page)
http://www.cakecentral.com/cake-decorating-ftopict-611152-wilton.html
And in this 2 photos you can see a little of the junction areas (neck) and how I fixed it.
http://www.cakecentral.com/modules.php?name=gallery&file=displayimage&pid=1218549

http://www.cakecentral.com/modules.php?name=gallery&file=displayimage&pid=1216670
Sometimes you have to piece it on and when I have to do that, I try to "caulk" the seams with royal icing and then cover up with design if possible. Also I try to make sure seams are in the back although I did a dog cake and the seam is quite visible in the front, which was a major mistake.
Chill it completely first and you will have a gorgeous surface to work with.
Most definitely chill the cake, and I find that it's a little bit of playing. Talking about the ball shape here, where it's about to wrinkle up you pull it back away and smooth it out. I roll my fondant thicker and larger than to just cover the cake. So I have excess to play with, then cut away the rest. I am sure that there is a more pro method but this is how it works for me.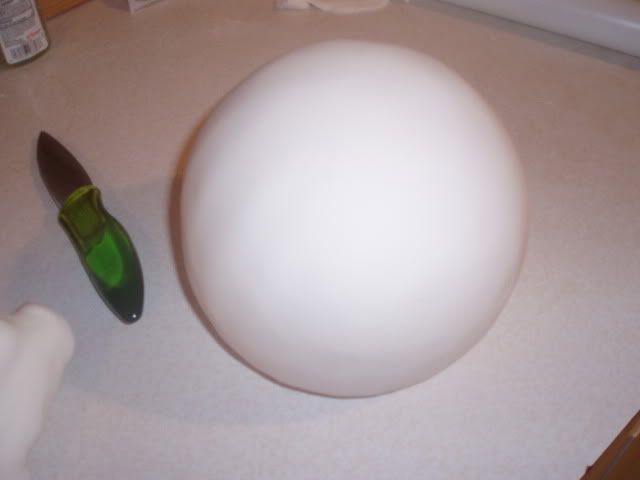 Quote:
Originally Posted by
anamado
I think it's too difficult. I cover odd shapes all the time, but always with some kind of accents to hide things
In this page I have posted 2 pictorials of two of those cakes (one in top and the other at the end of the page)
http://www.cakecentral.com/cake-decorating-ftopict-611152-wilton.html
And in this 2 photos you can see a little of the junction areas (neck) and how I fixed it.
http://www.cakecentral.com/modules.php?name=gallery&file=displayimage&pid=1218549
http://www.cakecentral.com/modules.php?name=gallery&file=displayimage&pid=1216670


Oh you did so awesome on that doll, what a cool method too, puzzle the pieces together. Great tip!
Marzipandoll, that ball of yours looks incredible!!!!!!!!!!!!! Perfect, perfect!

What kind of cake did you bake? Pound cake?
Thanks! No pound cake. If I dont have to I dont use pound cake. I dont like it. Its a regular white cake I baked in the Wilton ball pan. Cooled it off in the fridge after BC icing and rolled my fondant thick. Its not hard when your perfect ball shape is already given!
You guys are all very nice thank you for all the advices!!!!!
Thanks everyone!! for sharing your techniques. Glad to know, also, that I'm not the only one out here with the same issue.