How do I get it to pour thinner than it is!? It worked really well, and I was even able to cut it to measured shapes before it hardened. But it is a little too thick. Should I heat it longer, and maybe heat the granite counter top (it was cold when I poured into the parchment paper!)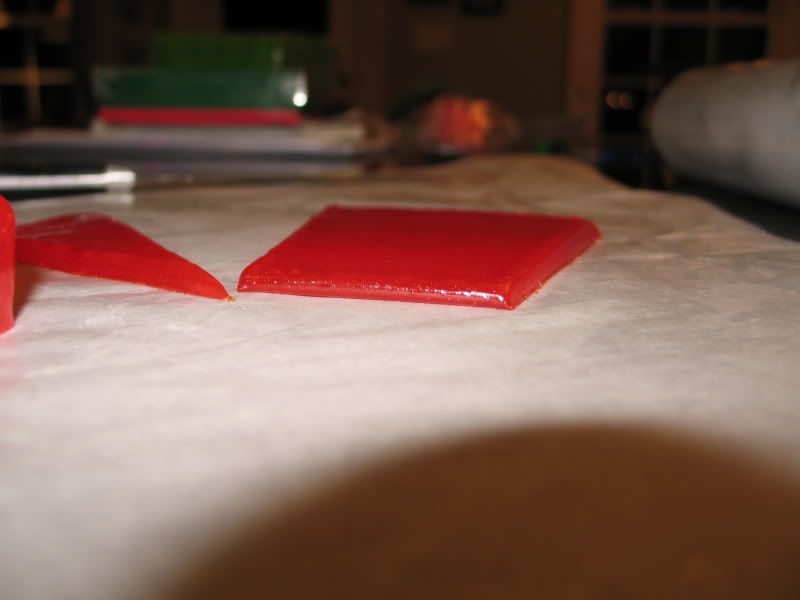 BUMP

How did you do this by the way? - in the oven?? Did you heat it up to 250 degrees and then poured it?? I would love to know!
The cool granite would definitely cause it to set up faster, making it thicker. Pouring it onto a warm sheet pan might be easier than trying to heat up a slab of granite! Also you can try baking the jolly ranchers in a mold. I apologize that I don't know the name or what it is used for, but you can go to your local hardware store and it is a gray liner that comes in roll (I think it is used for showers) it's few millimeters thick. You cut any shape you want out of it (I use it for tuiles and such). Crush up the Jolly Ranchers and place them in the shapes and bake them
Easier than melting, pouring, cutting and your designs will come out clearer to boot!

This would be easiest to on a silpat if you have one, then you also spray the molds and stick them to the silpat, preventing and Jolly Rancher goodness from escaping and messing up your design.