I have a request for a cake for this Saturday - it's for a children's reading club and they just finished The BoxCar Children. The request is for a boxcar cake. In my google research, it appears this boxcar is red.

I'm thinking of just making a half sheet, but do I have to cut it out on the bottom in order to make a shape for the wheels? How would all of you experts make the wheels? I'm thinking I'll just pretty much pipe the design out on the face of the cake similar to doing a piping gel transfer. But it's the shape with the wheels and the little vent on top that has me a little stumped.

THANK YOU!!
I am now feeling more ambitious..how about a 3D boxcar? Sounds fun and I like a good challenge, but I don't even know where to start...how would one make it 3D?
**bump**
please help!
i'm lost!
OK, having never done this....
Base- a rectangle box or wood frame, painted black A little smaller than cake would allow room for wheels to be underneath.
Cake- several layers to get height, on a sturdy board, may need additional support in middle depending on # of layers.
Wheels- cut out of foam core, or crafting foam. (or fondant) Attach to sides of box support.
Little top vent- Fondant or cardboard, colored/iced to desired color.
Couplers (if desired)- could be wire covered with fondant, dowels or something, attached to front of box support.

"Porch" or whatever on the back- could just be decorated on with icing unless you are alot more daring and want to carve it out. "Roof" would need to be supported , rails could be fondant, pretzels iced/covered.

Just some thoughts. Hope that helps.
Icubed82, sound like a good idea to me.
Icubed,

Wonderful ideas! Do you mean to have a couple of layers of sheet cake lying on the board, or standing up? I assume you mean lying down. I think I'm able to picture what you mean in my mind!
I would lay them down, then stack however many you need to get the height needed. Say 9x13, flat on board, then stack two more 9x13 to get height., so you have 9x13x6" high. You want the nice big surface down flat, then stack. Trying to stand on edge is just begging to fall apart!
Well this is what I wound up doing, it turned out ok.
I made the boxcar out of a foam block covered in fondant. I tried to make it beat up and rickety looking, because the Boxcar Children found an old boxcar in the forest and lived in it.

Thank you all so much for the ideas!




I added another tree later and some grass around the trees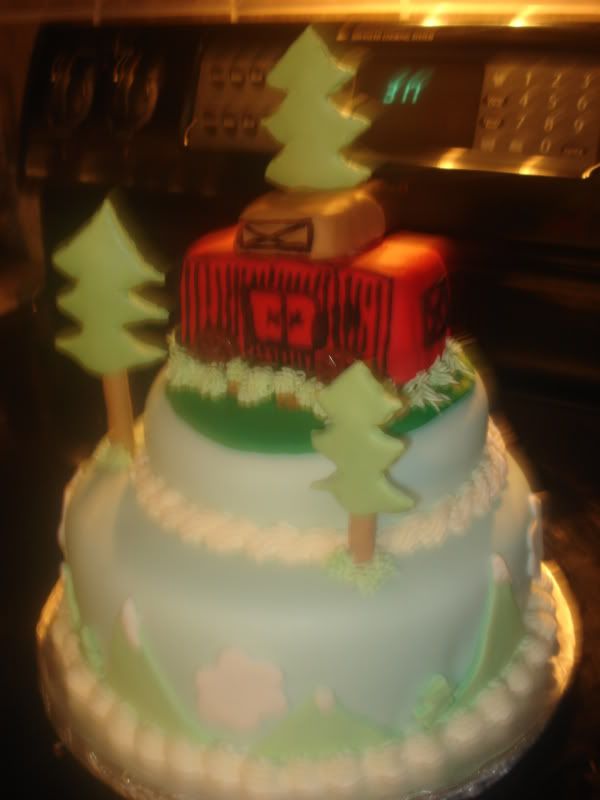 Looks great! Congratulations!