I used MM fondant supposed to be topsy turvy
I stacked about 4 thin layers of cake, crumb coated, chilled them added another coat of frosting. When I rolled the fondant, first it split everywhere, then when I finally got it back to normal and put it on the cake my icing smooshed out the bottom and the fondant looked like it was just drooping. the bottom of the cake was a mess. Made me never want to mess with fondant again. Im pretty sure it was rolled out to 1/4" I was too scared to roll it out thinner cuz it kept tearing.
What should I have rolled the fondant in, C.sugar or cornstarch? and should I have i have put the 2nd coat of frosting on? any other suggestions would be appreciated! thanks
I know the cake looks bad, after it messing up I just got aggrivated and threw it together. so plz no bad comments, I just want opinions on what to actually do right.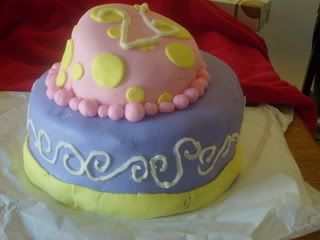 Your link didn't work.

Probably the only problem was putting the icing on too thick. After lots of trial and error, I've found that what works best for me is a single coat, slightly thicker than a crumb coat, and to chill the cake before putting the fondant on.

I roll it out on cornstarch on a sheet of thick clear vinyl (from fabric store). 1/4" thick sounds right.

Post another link to your cake, I bet it's not as bad as you're thinking and if you haven't delivered it yet, there's bound to be a good way to disguise the problem with decorations.
nevermind, link is working now.

That cake is so cute! You should try a thinner coat of buttercream but other than that, adorable! If you have any pink left, why don't you roll out a thin rope of it and put it around the very bottom edge, it would tie all the colors together
Actually the cake doesnt look that bad, I would roll out pink fondant for the bottom and take the other off try to get it on even and no finger prints on it, Other than that i think it look's great,
If your fondant was tearing, it might have been just a little too dry. When I make MMF, I never use all the powdered sugar the recipe says because it's too much and the fondant ends up dry. If you have some fondant left, you might try kneading in a bit of shortening and rolling it out again to see if it's any better.

Just take your time - fondant is a tricky medium - and keep practicing. I know people who've been doing cakes for years who still have issues with fondant. A pizza cutter is great for cutting strips (like the yellow strip around th bottom) as it won't pull or tear your fondant edges like a knife will. Rolling it out on a fondant mat (wilton makes one) or a sheet of food-safe acetate will make it easier. Start small and practice, then when you feel comfortable you can move on to larger cakes.

Good luck and just have fun!!