Hey guys!

I entered my garden in the local garden competition. The judges just left. They were either really pleased or just being nice
. It's only a young garden, so I'm not sure I'll win anything but I'm still pretty excited.

Here's some pics.

Front Garden.




Hippeastrums at Chook Shed.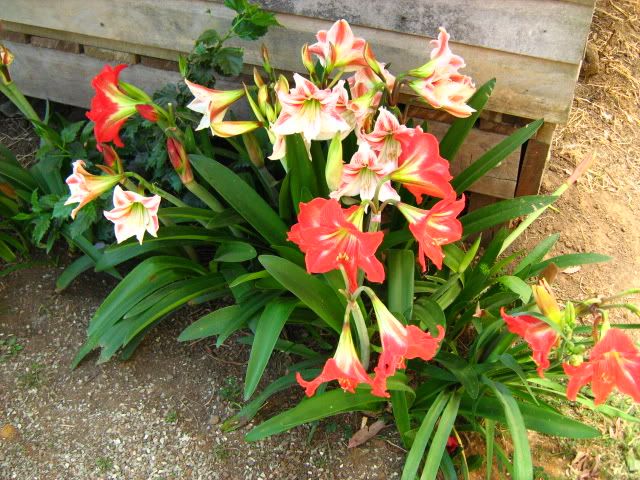 Ponds in Front Garden.


Very pretty! You are multitalented.
Hope you win!
Thank you Kitagrl
.
I won......I won?
.........I won!!!!! Wooohooo!!!

I came 1st in the Residential Devision
.

Anyhow, thanks guys for the overwhelming support. It means so much that there were soooo many well wishers
.

Seriously, thank you Kitagrl for your support and thanks also to Judi who taught me how to post my photos like that.
congrats! your garden is lovely!

what zone are you in? i *just* got into gardening this year...planted over *100* plants, trees, shrubs! who knew gardening was sooo much fun! if i have any questions, i'll know who to ask : )
Congrats on your win!
Congratulations Jen! Your garden is beautiful!
Aww thanks guys.

dailey- We're classed as Sub-tropical, but our area has a very mixed climate. 2Km's to the west is rocky, dry and hot. 2Km's east are cool, damp tropical rainforests. We're 3100 ft above sea level, so we have a lot of mist as well and the fireplace is going for most of winter.

100? Wow that would have taken some digging!

Haha! I will be glad to help anytime, although I do not claim to know everything. Very bad with botanical names, unless it's herbs and I'm not too good with pests and diseases either.
Congtats Jen! Your garden looks so beautiful! All the elements looks so natural.
Wow Jen what a beautiful garden....congratulations on the win!
Beautiful garden!! Congrats!!
You're multitalented! congrats!
your garden is gorgeous. Congrats on the win. I'm impressed, I have black thumbs and kill every plant I touch. I'm always amazed when people can keep their plants alive.
Thank you everyone