I posted this question in another form. But will ask again. I will be making a Pirate Theme Birthday cake for my nephew next weekend I am looking for instructions on a Treasure Chest Cake would anyone be willing to share their instructions I would like to know

What size pans you used?

How many layers?

Did you use cake or RKTs for the lid?

How did you get the lid to stand up?

Did you use fondant or Frosting?

What kind of tool did you use to make your frosting or fondant to look like wood?
And any other advice you can give me

Thank you, in advance for any help?

Molly
I'd like to help but you have soo many questions... The first thing I recommend is you should figure out how many people you want the cake to feed. Use a chart to determine what size cake you need and go from there. I have a pic of a treasure chest cake you can view on CC. Search "DecoratorJen". I used a cake board for the lid with a single layer of cake on it. 2 dowel rods colored black hold it open just enough to see inside. I found small battery operated lights that you just twist on and I inserted some as "jewels" so kids could see all the other treasure inside. The cake I did was fondant covered. I used a knife to make grain marks while the fondant was still soft and went back over the grain marks with black color on a paintbrush. My kids helped make and color most of the jewels inside. Now I know there are places you can buy sugar candy jewels but most of mine for that cake were fondant. Gold foil coins are always a hit too. Good luck with your cake!
hi molly

i just finished a pirate theme birthday cake, and this is how it turned out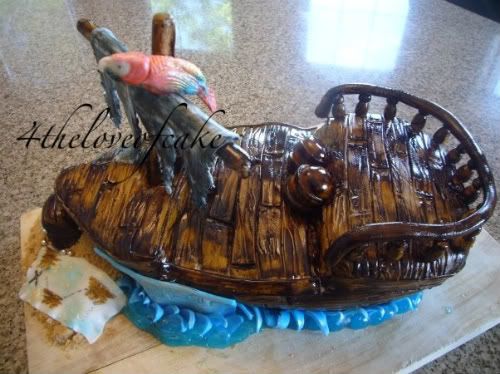 i covered the entire cake in a thin layer of fondant
then i cut strips of fondant in all different sizes and just used one of my pointed plastic tools to draw in the wood grain (sorry i dont know what the tool is called, but you could use a toothpick or something pointy like that).. i also drew some circles in some of them like wood has. then i poked 2 holes at each end of each piece of wood to look like nail holes. when all the wood was attached to the fondant underneath, i mixed brown wilton gel coloring with a tiny bit of vanilla and did short strokes on the entire cake. then i mixed another little bit of brown gel coloring with much less vanilla so it would be darker and went over a few spots because its not always the same color =)

HTH!!! i can't wait to see your cake!
oh yeah, and some people use alcohol instead of vanilla, but i didn't have any with me.. so you could use that too! =)