First cake to be seen in public haha. This is my sisters engagement cake. (There is a layer of baking paper between the two layers just so I could stack it together for the photo). Wired hearts will be bent but not until the night - I'm worried the wires may weaken and flop.

What do you think? Is the top layer too plain? Suggestions gratefully received.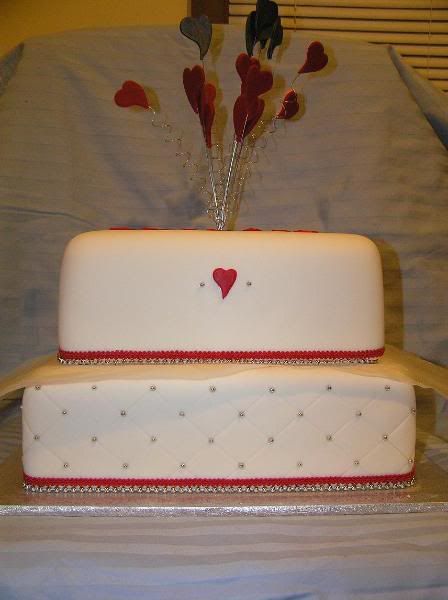 I don't think it's too plain at all - I think the whole thing is gorgeous. There is a lot to be said for simple and elegant, and this cake is definitely it!!
Thank you. I prefer the plain look to overdone....but I don't want it to look like it's missing something or looks bare.....
I too think it is quite elegant. Send us a picture of the finished product, with the hearts all bent like you want them and the paper between the layers removed, if you can. I'd really like to get the full effect of your creation.
I think it is beautiful. If you add anything else on the top it will be too busy. Great job!
It's lovely -- your sister will love it!!!! I, too, tend to be in the "less is more" camp, so I think it's perfect the way it is.
I think its lovley, its simple and yes you could say plain, but thats what makes it elegant, clean and smooth. I really love the look youve got going
im ALWAYS tempted to add more and more , but i think this is spot on
WOW! It is "simply" beautiful ! You did a wonderful job on this ! CONGRATS!
That is very pretty and makes me think of London Cake Company. great work!
Your work is flawless! Dont do any more to it. Its very elegant!
Your cake is gorgeous, i dont think you needto add anything to it!!
Its a beautiful cake! Flawless!!