I'm baking a cake for my daughter's softball team party. I was wanting to have the words "Go Jayhawks" (her team name) Standing on the top like the picture below. Are the letters fondant? Any suggestions on how to accomplish this would be greatly appreciated!!!!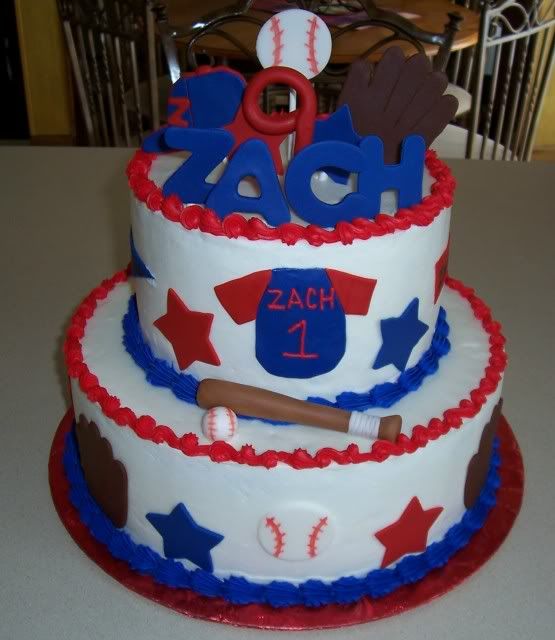 [/img]
I would use pastillage or flower paste, fondant wouldn't dry stiff enough.
There may be another name for pastillage in the US, i'm not sure

I have to do numbers like this for the first time in August so i'll watch this post for other ideas


Good luck
Yes, I would use gumpaste or the mix of gumpaste and fondant. You can try making it with pastillage like Londonpeach has suggested above. But when its dry, its very brittle.
The letters on that cake look like fondant to me. You could use cookie cutters to cut the fondant out, or you could cut around a template. Then you just let them dry, and stick them in the cake, or use toothpicks to prop them up. But you could also make letters out of chocolate or royal icing, depending on the look you want and what you are most comfortable with.
I was told to use gumpaste or 50% gumpaste and 50% fondant. I haven't tried it yet. Allow a day or so to dry and be sure to make extra to allow for breakage. The letters in the picture appears to be a cookie cutter or a template. You can make these templates by using a word processer like Microsoft word. Pick your favorite font make it the size you need and print on cardstock.
I have made them with just fondant and allowed to dry for several days. You can glue a lollipop stick or skewer on the back. Or put heavy gage wire through the bottom before dried, provided letters are thick enough. Using the 50/50 fondant, gum paste would take less drying time.
I did a "4" like that for my son's birthday. I used mmf and slid a toothpick up in the bottom of it while it was still soft. I let it dry for a few days and it was ready to go. You have to be sure to put enough powdered sugar in the mmf or it will never stiffen up.