Hi - I'm Julia from Australia.

This is my first post here.....and this is my first fondant cake. The icing is quite lumpy (I did fill the holes but obviously need a lot more practice with my technique
)

I think I will put dots along the top of the border around the bottom of the cake, so apart from that, I just need to do the faces!

Anyway, my question is.....what would you use to finish the faces? I am SO nervous about doing this... I want to do parted hair at the top, plus eyes and mouth. Do I draw them on? Try to do it with fondant (PLEASE don't tell me that LOL)?

Aurgh! I'm stuck!


Any suggestions would be gratefully received. Thank you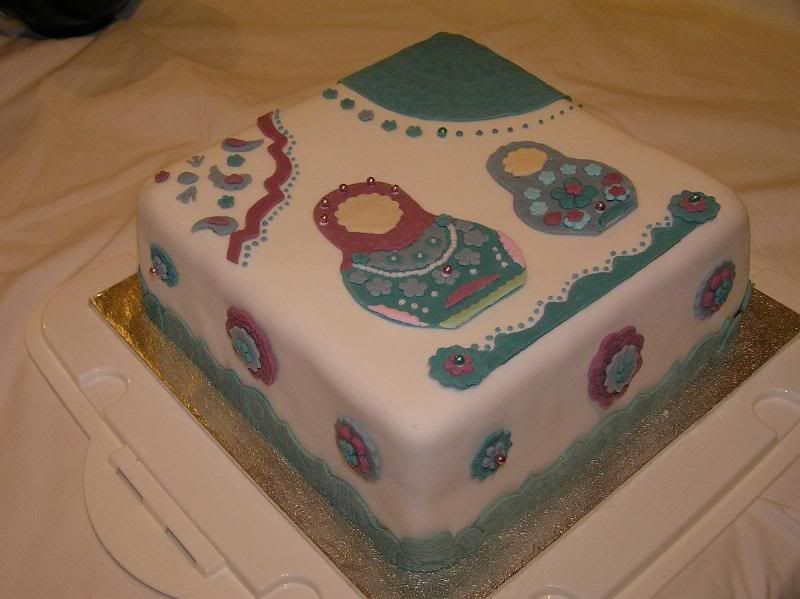 Welcome to CC Julia!

You did a very nice job on this one! It doesn't look like a first at all. I think painting would it look nice. Especially if you have lots of painting skills.
Well that's the problem *blush*.....I have no painting skills.

I wonder if I could use some kind of template....?
Wow Julia great job on the cake...and welcome to CC.

If your worried about painting the face you may want to consider doing it with food color pens.

They are available in a variety of colors and it would be just like drawing or sketching on a piece of paper.

What I would do is cut out a piece of fondant the same size and shape of the face on the cake and practice on that first...at least to you come up with a design you like and get a steady hand.

Once you come up with something you like you can do one of two things...

1. Draw the same image on the cake directly

2. Use the one you did for practice that you like and place it right over top the original face on the cake.

I do have to agree with RylanTy though, that painting it would be the most complimentary thing to do on a cake so lovely.

Maybe you could practice painting on a separate piece of fondant ...Hope this helps!

Miss Lizzy
I think you did a fantastic job, the cake looks really really nice!


I would paint them on, or use the edible ink markers (although they may be a bit thick for the faces).

If you need a template, could you print off a face the exact size of the fondant faces, then use a utility knife or needle to carefully cut out the face and the holes for the eyes, mouth, etc from wax paper? You could then paint over that and any major spillage would be on the wax paper instead of the face? I have no idea if this would work, it's just an idea and I've never tried it!!
Your cake is so beautiful! Whatever you decide (sorry, I'm no help in this department) it will be fantastic! Congrats on all your hard work
Hmm I will have to look for ink markers....if they are very fine I would be able to do long eyelashes which is a feature on some of the dolls I have seen.

I will also use the idea to practice practice PRACTICE on another fondant face first....if I don't have the confidence to do it right on to the doll on the cake, I might just paste the practice one on as suggested, and perhaps make an extra piece for the headscarfe to cover over the extra height.
Welcome, Julia77, and wow...your work is amazing!
Thank you for your kind remarks ladies.....especially for concentrating on the general idea of the cake and not on my hideous attempt of smoothing out the white fondant.
Julia, just make sure that you use the edible ink or food coloring markers/pens...and cant wait to see the finished cake!
Will do MissLizzy. I am keen to get practising now