I was looking at some pictures in the gallery to get some inspiration and really like the long neck dinosaurs. So, I guess my question is...any suggestions on how to keep the neck up so it won't be too heavy?? The one that I want to do is similar to Debbie Brown's dinosaur (but I don't have her book)...can anyone help? I will be using fondant on it. I need to have it done by Wednesday...

P.S. I haven't been here in months, I took a hiatus from cake decorating because I went back to school....trying to get back into the swing of things...

Thanks!!!
Debbie Brown says to roll the fondant into a sausage for the neck and push a plastic dowel through the center. Push the dowelling and neck down into the body, secure with sugar glue, then press on head.
Thank you so much!!! I so appreciate it!
disneynutbsv

Please post the pic of your dinosaur when done and tell us how you did it. That is one cake that I have wanted to do and have stayed away because of the neck.

Thanks.
would someone please remind me what is sugar glue? thanks
So, I did the cake and am I out of practice!! I couldn't find my sports ball pan, so I used the doll pan. I rolled out the neck with fondant, made the head, put the dowel through, then put a party hat on top of his head. I put orange spots on his back (he was green). He was sitting on top of a 10" cake that I used the grass tip to make it look like he was sitting in grass.

It came out...just ok to me, I need to get back in the swing of things and do this stuff again!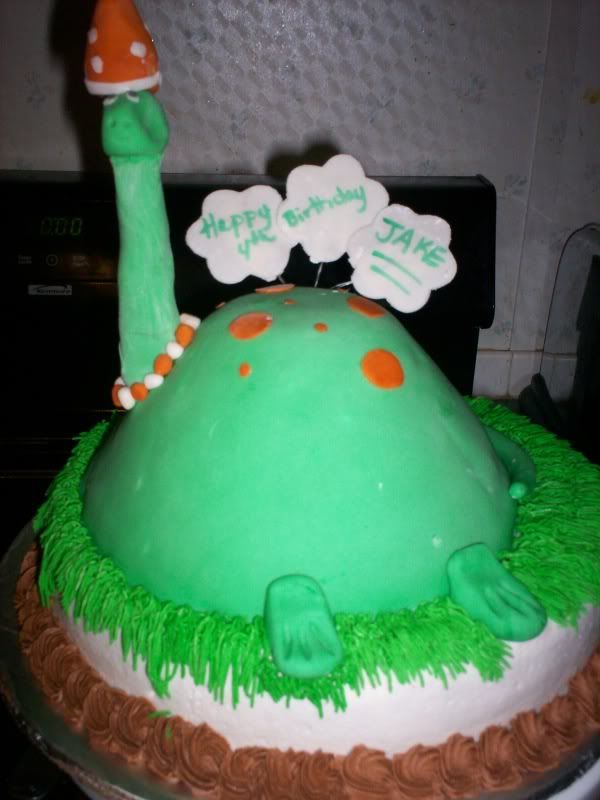 to me, he kind of looks like a turtle...
turtle, dinosaur, either way they are still in the same family tree. it looks good to me. job well done!!