I am doing one for my daughter's 4th bday party this weekend. I am no expert cake decorator by any means and can only do the basics really


My idea was a white sheet cake with rainow colors around the outside of the cake for the border. Then a rainbow on top of the cake, green grass with the red poppies in it and a yellow brick road leading to the emerald city. with a laminated picture of my daughter in her dorothy dress from halloween like she is standing on the yellow brick road. My problem is I dont know how to do the emerald city. I tried finding a pic to laminate too but I cant find one for the life of me that will print properly. any suggestions??

thanks!!!!
See http://sketchfu.com/drawing/69478-emerald-city
You can download this image and I tried to resize it:
you can get it up to full sheet size.

And the painting process is spectacular!

If you choose this picture and need help with resizing - pm me.

Majka
This is the cake that I did for my best friend's little girl who turned 4 in December. My friend added a rainbow that she printed out behind the emerald city. It turned out really cute and was pretty easy to decorate. I made the emerald city and brick road out of candy clay and dusted the city with green luster dust. The shoes are plastic favors my friend ordered from a party supply.
http://www.cakecentral.com/cake-photo_1327845.html
thanks for the suggestions


Here is the finished product. It's not the best I've done but my daughter was def. impressed. lol and i wanted to do the rainbow in stars and more colors but i ran low on icing.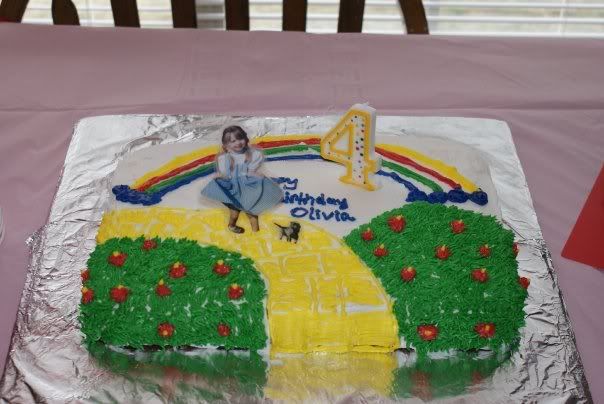 I think you did a very nice job. Is "Dorothy" your daughter?
it turned out great, and most importantly- your daughter loved it.