Soooo... My sister called me an hour ago and said she needs 2 Anti-Valentines Day cakes for TOMORROW.. (Thanks for the advance notice Sis)..


One will just be a small cake for her work 8 people all single and dumped..
The other is for about 20 people and is for the bartenders and servers who had to work a Valentines Day wedding (For the after-party)..


Any ideas?
Heart-shaped cake with black fondant? There's a great photo somewhere on CC of a shaped cake -- looks like an actual human heart with aorta, etc, and a knife stuck in it. Really ANTI.

There's another submitted for the romantic cake contest with blood coming out of the heart.

Just a few thoughts.....
I've seen some funny e-cards that are anti-valentine. Maybe one of those could give you inspiration? Good luck and show pictures
I was thinking heart & knife. You might could get some ideas from the "very merry unbirthday"--was that Alice in Wonderland?
I saw some cookies made to look like conversation hearts - they had very un-valentine sayings - like "you suck" "bite me", etc. Maybe you could do the cake covered in fondant hearts (like in the Wilton yearbook) with the crazy sayings on there. There is another thread on here somewhere where everyone gave anti-love sayings. Some were pretty funny.

I saw another cake that looked like a garbage can, then sticking out of the top were things like roses, candy boxes, etc. The can lid said "Love Sucks". it was on here somewhere...I'll see if I can find either of them if you're interested!
The garbage can sounds like a good idea! I was thinking of doing a border of the conversation hearts with anti-love sayings.

I am looking into doing a face down cupid with an arrow in his back.
Well i'm gonna get to work I will post pictures when i'm done. Thanks for all the great ideas!!!!
Ok , Here is the first one...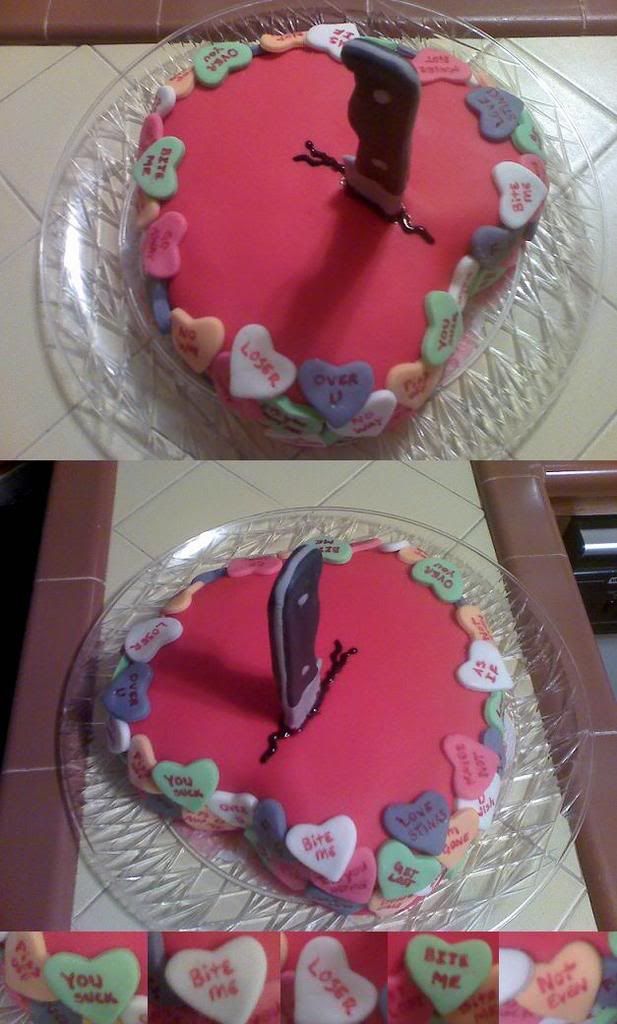 Here is the second one....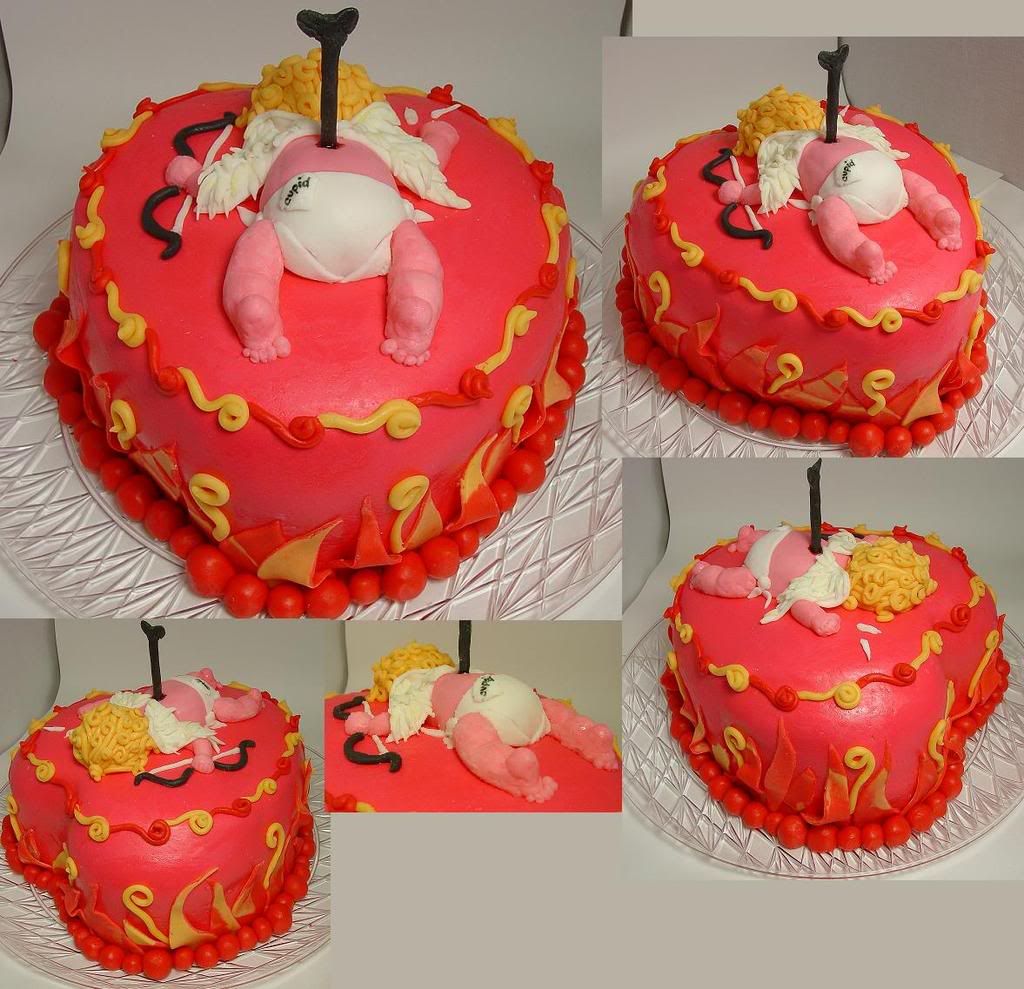 Those are hilarious! I can't believe you just whipped those up. Great job!
They turned out great! And on such short notice they are AWESOME. I giggled when I saw cupid. I felt like shooting cupid myself & agreeing Vday sucks. (Dh spent it playing video games & tossed my card & scraggly flower--not even in a vase---on the counter). I even had to say "I'm leaving" to get him to go eat w/ me & our girls. Don't know where his "lapse" has originated, but it better not continue. So, I'm in the boat of loving these cakes.
Thanks for the compliments!!!!

I worked on them till 2 in the morning, and now have a kink in my neck.

Sorry about your valentines Day Dandelion, My husband actually got up this morning
and went to the store..(To get beer) and brought me home some flowers from Von's.
Then told me all day what a wonderful husband he is for getting me flowers!!
So about halfway through his 30 pack of Budweiser My daughter and I went and got
Chinese Take out , played scrabble and watched movies.

After being married for almost 23 years I don't expect much.

So I think I will start celebrating ANTI-Valentines Day!!!!