Hey there,

This is my first post on the boards! I have an issue. I have ideas, but I can never figure out how to execute them correctly. I have searched and searched, but nothing that I've seen has the same ingredients I want to use.

I want to make some strawberry cupcakes, preferably from scratch, for my birthday. I am making them tonight. Right now, in the fridge, I have about a cup and a half of chopped, rinsed, lightly sugar sprinkled strawberries sitting in about 2 tsp of vanilla and 3 tbsp of strawberry glaze (the kind for pie filling). I plan on making a puree with that, and adding it to a vanilla/white cake recipe.

I have some options here.

I can add the mix to a Duncan Hines White Cake Mix, and cut out water or oil.

Or I can try and figure out how much of what I will need to make it all from scratch.

I'm super nervous, and I don't want to ruin it. I want them to be sweet and moist and light and pretty and everything they should be.

If anyone has any suggestions on what to add it to, I would be forever grateful.

Also, I only have AP flour on hand.
Hi and welcome!

I haven't been able to find a recipe for strawberry cake that didn't taste fake to me, and I've tried several. I've used strawberry jello, strawberry cake mix, I can't remember what else. The reason I tried that way is because I have a strawberry bread recipe that uses two cups of strawberry puree, and although it's intensely delicious, it tastes nothing like strawberry and I can't figure out why. It doesn't cook up pink either; it turns basically brownish. I can give you my recipe but I don't know if it would work for cake. Also, it is only strawberry puree, the sugar is added to the mix and no glaze, so it may not work for you.

Maybe what you could do is go ahead and add your strawberries to the white cake mix, and then fill your cupcakes once baked with the glaze? I'm sorry I can't help more, I don't do fruit fillings because I can't stand them. Let me know if you'd like my bread recipe and I'll post it for you. Good luck!
thanks for the reply, that info was helpful! i honestly just hope it tastes 'pink' with some strawberry flavor. i am going to put pink coloring in the batter so that it might turn out pink rather than brown. i'm going to use egg whites like the box says so that it won't turn the batter yellow as well. i think i'm just going to use the box mix this time and build up to making it from scratch.

btw, your cake in your avatar is gorgeous!
I was given this recipe from another CCer (GayeG):

Strawberry Cake

1 Box white Cake Mix
1 (3oz) box strawberry jello
1 (10oz) box frozen strawberries, in syrup - thawed and pureed
4 large eggs
1/2c veg oil
1/4c water

350 oven

Large bowl, combine cake mix and jello. Add pureed strawberries, eggs, oil and
water. Beat at Med speed until smooth. Poor into prepared pans and bake 20 mins
or until tested done. Cool in pan 10 mins. Remove and cool on rack

White Chocolate Buttercream

1c softened butter
2c powdered sugar
6 oz white chocolate (melted and cooled completley)
3-5 TBL Half & Half or Heavy Cream

Beat butter and sugar on low-med speed untill light and fluffy. Add melted
chocolate and cream. Beat on High 3-4 minutes.

Note: this recipe makes a normal size family cake (2 -9in rounds or 13x9)
the cupcakes came out pretty awesome.

White Cake Mix
1 cup of strawberry mixture (vanilla, strawberry glaze, sugar, and chopped fresh strawberries all mashed together after marinating for 2 hours)
2 tbsp vegetable oil
1 shot glass of water
A giant blob of Wilton Rose Color Gel
3 egg whites


I mixed all the ingredients together until the batter was a nice pink color. Next, I put it in the cups and baked them at 350 for 20 minutes. Then, I let them cool in the muffin tins so that they could set completely.


I filled some of them with coolwhip mixed with vanilla. And topped them with more of that and the strawberry glaze.

The rest, I made a medium consistency vanilla buttercream frosting, and added some drizzle of strawberry glaze to it, mixed that up for a nice light pink fluffy frosting. They taste nice and sweet, and they are very lightweight and moist.


here are some pictures!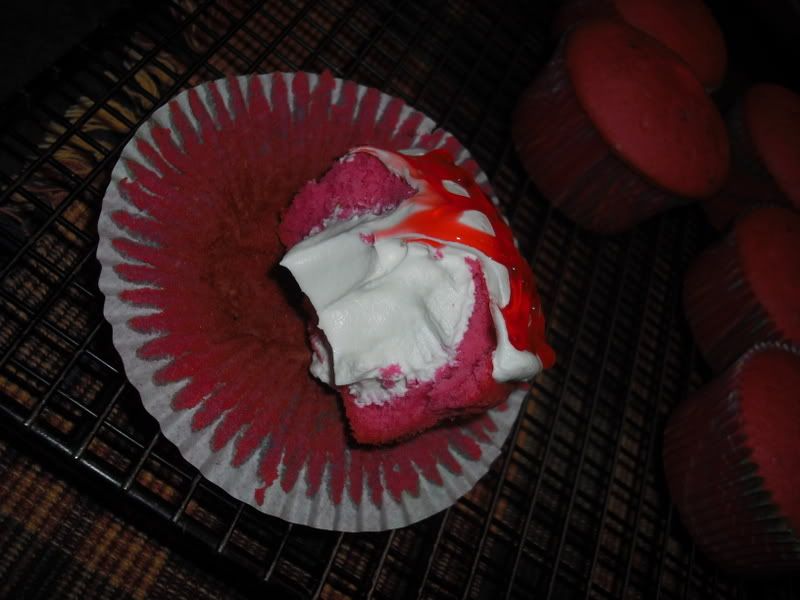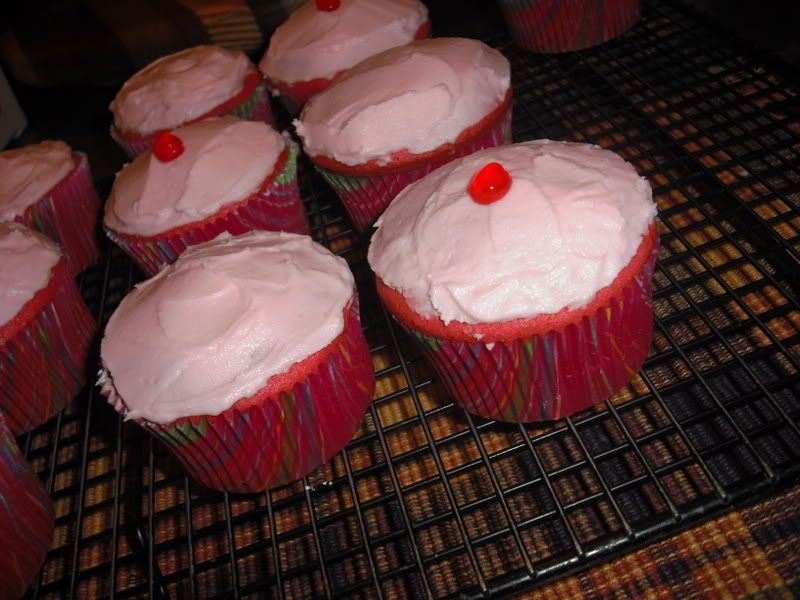 I love the color! Did they have much of a strawberry taste?
lets just say that i could tell they were strawberry. they weren't as moist as i had wanted them to be, and i'm not really sure what would make it more moist. i don't know if it was the mix i used, or what. i ate two of them, with the whip cream topping, and i couldn't take any more than that. they were kind of like a sweet strawberry taste, kind of like a puffy texture all throughout. i think i want the cake to be a bit more dense next time, but still just as sweet. i think they taste how they look... pink. kind of like when you go to the chinese food buffet and you get the little cake with the pink topping and the pink gelatin topping... i always describe that as tasting like pink. but i guess it's just a really sweet strawberry flavor.

i'd use this same technique again, but maybe with one full egg and some more liquid. (if that's what would make it more moist)