I am making a groom's cake for a friend's wedding in three months. I made a little miniature today because she wanted to make sure I could do it and to taste my cake. But I am very sure in my cake decorating skills and she absolutely loved the mini I did today. Now I need to figure out how big to make the final and give her a price...

I have a picture of what she wants it to look like... but I have no idea how big to make it!! She needs 75 servings, she doesn't care what the dimentions are as long as it will feed 75. So my question is... how big should I make it to get 75 servings?!?!?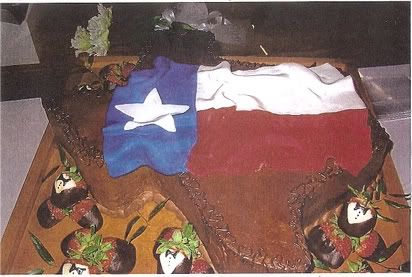 Start with a full sheet & 1/2 sheet cake... or 6 quartersheets. If you can bake a full then a 1/2 sheet, cut the half sheet in half making 2 quarter sheets, then lay the "1/4 sheets" lengthwise along side the full sheet lengthwise. So the dimensions are 26" tall by 27" wide. This is way more cake than you need but just a full sheet isn't enough. Carve the Texas shape out of the cakes (make sure you have iced all the connecting sides so they stay together). You should have a good 75 servings if you utilize part of each 1/4 sheet cake area layed out. Save the extra cake to use for future samplings or chow down...LOL!