So, I'm new to cake decorating, and have never worked with gum paste before, but have found that I prefer that taste to fondant. And I watched one of Lorraine's videos on how to make an elephant, and I actually pulled it off. Who knew? lol. But now I have a problem. The gum paste is cracking as it's drying. I'm using the Wilton's ready-to-use gum paste that comes in the re-sealable bag, and I also used some Wilton's black coloring to make my elephant grey (which I had a hard time getting the color all the way through as well.)

But does anyone know what I did wrong? How can I make the gum paste not crack when it dries?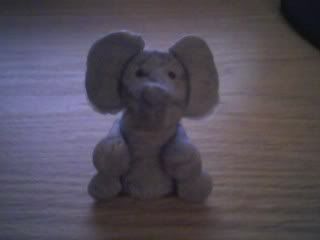 i love the wilton premade gumpaste... it works really well for me. i also make nicholas lodge recipe. i love that too. when you go to work with a piece of it.. you put a little crisco on your finger and massage it into the gumpaste really good... massage.. pull... and stretch it really good.... when i open the package... i cut it up .. maybe into 4 pieces... i do the same with these pieces.. than wrap each piece with saran wrap and put these into freezer bags... store in frig or freezer... i usually mix 50-50 fondant and gumpaste when i make animals , etc. sometimes , you might get a package and it might have a few hard pieces around edge... pinch off and throw away... if it has a lot of hard places... take back and get new package. it happens sometimes.. even when you make your own... you just have to add the little bit of crisco and rework the gumpaste. just a little of the black to make grey should have been ok.. it usually does well for me . i just think you need to massage crisco into whatever medium you are using. i think you would like working with the fondant and gumpaste mixture better.
I've had that problem before as well, and I'm also really new at gum paste too. Sometimes I think I knead in too much crisco then it's really weird. Mostly my problem is I knead it, roll it, cut it out and then decide that I want to do it over again and over and over! Then it's too worked over! I've just started using the Nicholas Lodge recipe with Tylose powder. So far it's really nice stuff to work with too.
Gumpaste dries very quickly. If it's going to take more than a couple minutes to complete my figure, I too use a 50/50 gumpaste and fondant mix because it gives me more working time before it starts to dry and crack. Also, as you create your figure, make sure you keep the gumpaste, and each piece you make under plastic or glass to keep it soft while you complete the remaining pieces.
But in this instance, you WANT cracked skin for your elephant! I made a lorraine elephant too, and he was crackly in just the right spots, like real elephant skin!
Thanks guys! I'll try the Crisco next time, and I'll see if I can find the recipe for that Nicholas Lodge as well.