Does anyone have any tips for making long-stemmed gumpaste calla lilies?

Should I make the lily centers with 1 piece of 20-gauge wire, add the petal, let that dry, and then wrap the stem with additional wires and florist tape?

TIA
What I did to fatten up my stems was water down a little Elmer's type white craft glue which is non-toxic and dip a paper towel in the watery glue and place a covered wire on the paper towel and roll it up and let it dry.

They are bendable and fat enough. Some of them I tinted the glue green.

That's what I did.
Have you tried some hollow flexible tubing? (run the wire down the center of the tube). You can cut it the length you need, and wrap it in floral tape... I've never tried it, but it sounds like it would work..
both ideas sound great!!

can i get the flexibe tubing at the hardware store?

k8memphis, did you colour the glue with food colouring?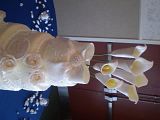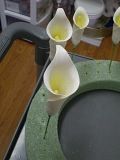 Hi,
Start by wrapping 3-20 guage wires together with floral tape. Roll out the lemon yellow center about 1 1/2 inches and put a little egg white on center and roll it in something like semolina flour or yellow casting sugar

cut the lily shape out using cutter and place it on the veining mat if you have one.

Wrap it around the center and hang upside down for about an hour

then place the hollow tubing which can be found at most hobby stores or nicholas lodge's school in Norcross Ga.

then dust with a touch of yellow in center coming out and a touch of apple green along the back tip and bottom.

The tubing is hot glued to the flower.

Happy Baking
Michael Anthony
thanks michael anthony!

Does nicholas lodge sell the tubing on his website? I tried looking for it there but couldn't find it
his website is a bit hard to find items on.

Here is the number for his school. they are extremely helpful and if you ever get a chance to go to his school I highly recommend it. He is simply the very best at what he does.

Phone number International Sugar Art Collection 770-453-9449

michael