I guess this really isn't a question - because I am hard-headed and will throw caution to the wind and try it anyway...


BUT...

I need to put Chocolate Chip Cookies on a stick - SHAPED Cookies. WITH MMF!!!
Circles and pumpkins. I do a pan cookie method and cut the shapes out after baking. Other than scraps (which go right to my hips before the DD has a chance to see them) I love this method. THey are thick and wonderful.

Now, I've never tried to put them on a stick - so I am going to bake the pan, cool them, cut the shape, make a hole, insert the stick, remove it, put RI on the end and re-insert it.

I am HOPING the cookie is not so heavy that it just breaks right off.

Any thoughts? TIA
Oh someone did that let me find it and post the link !
Thank you BOTH for your advice... I went ahead after posting that and tried it. I will attempt to add pictures. They all came out okay except one STILL comes through the back. Drying RI on it as I type.

Thanks again!

Oh... and I hadn't dusted off the cornstarch or attached the MMF when I took these - all that came out fine too. I DID attempt to put them in the oven to warm up the MMF so it would stick, but I chickened up and took them back out scared they would melt. I just used RI to attach.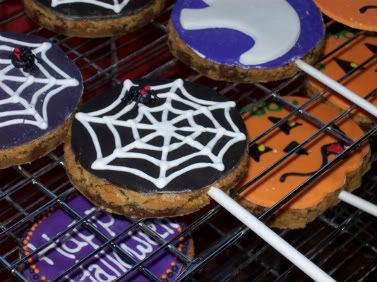 Those look awesome and very, very yummy! Would you be willing to share your recipe with us? I would love to make some for my kids - they're getting old for this kind of stuff but they still get excited when I present them with a lolly pop!
khufstetler.. They turned out wonderful!
Thanks Fiddlesticks and Peeverley! I would LOVE to share my recipe with you! I don't have any idea where I got it from, could have been here
I just wrote it down and everyone loved it, so I use it all the time.

Notes: This is a PAN cookie! I have tried to make them drop and have the same problem as everyone else with big puddles of gloop. I assume you could do the adding more flour trick, etc. and make them stronger. ALSO, I use MILK chocolate chips instead of semi-sweet. AND I have a very heavy hand when adding PURE vanilla extract in everything I do.

Chocolate Chip Pan Cookies

Preheat oven 30 minutes to 325 degrees.

1 cup unsalted butter, room temperature
1/2 cup white granulated sugar
1 1/2 cup firmly packed light brown sugar
2 eggs
2 teaspoon pure vanilla extract
3 cup all-purpose flour
1 teaspoon baking soda
2 teaspoon hot water
SMIDGE of salt
2 cup milk chocolate chips (the small bag)

Cream together in KA butter & both sugars until creamy. Beat in eggs, one at a time then add vanilla. Dissolve baking soda in hot water, add salt then add to mixture. Add sifted flour in small increments. Remove bowl from KA and mix in chips. Chill for one hour and spread evenly in 9x13x1 inch pan lined with parchment. Bake until golden brown and toothpick inserted in middle comes out clean. Cool completely and cut with cookie cutters into shapes.

It is SO easy and takes NO TIME to throw together! THe kids love to cut them out and personally they are better when not "done all the way", but they are always chewy!

*The parts at the pan's edges are normally crispy. Perfect for nibbles or I was thinking the chocolate covered oreo molds! Cake Balls? SOMETHING!
*

THank you again for the compliments!
They look great. How did you attach the sticks?

Judi
Thanks Juds!

I wound up cutting them out still relatively warm and then sticking the sticks in immediately. I used lollipop sticks which are thinner than regular cookie sticks. Then I let them cool COMPLETELY before even attempting to raise them up. I was scared. Like I mentioned one did give me a really hard time and STILL wouldn't stick even with GLOBS of RI in the hole. Other than that, they all held up fine - even through the bumpy delivery process.

Another note: these rise up pretty decently in the pan, so I spread the dough out about 1/4 - 3/8 inches thick... they turned out about 3/4 of an inch when done. Sweet.