Has anyone has experience doing this cake before? I'm about to embark and I'm just wondering if anyone had any helpful hints. So far I think I might have to remake my cake in the Lady Bug pan. We'll see how it comes out of the pan, but the edges don't look nice. I might have to bring down the temp and cook it even slower.
What do you think? I'm pretty happy with the way it turned out. When loading it into the cake box the dog cracked in the middle. I was able to fix with more stars and luckily the ear covers most of it. I told DH that no more all star tipped cakes! stinker took forever.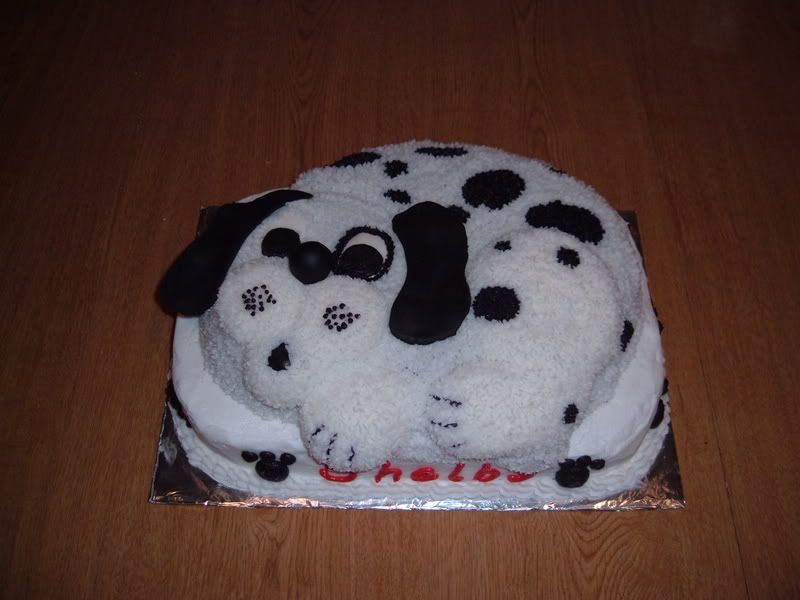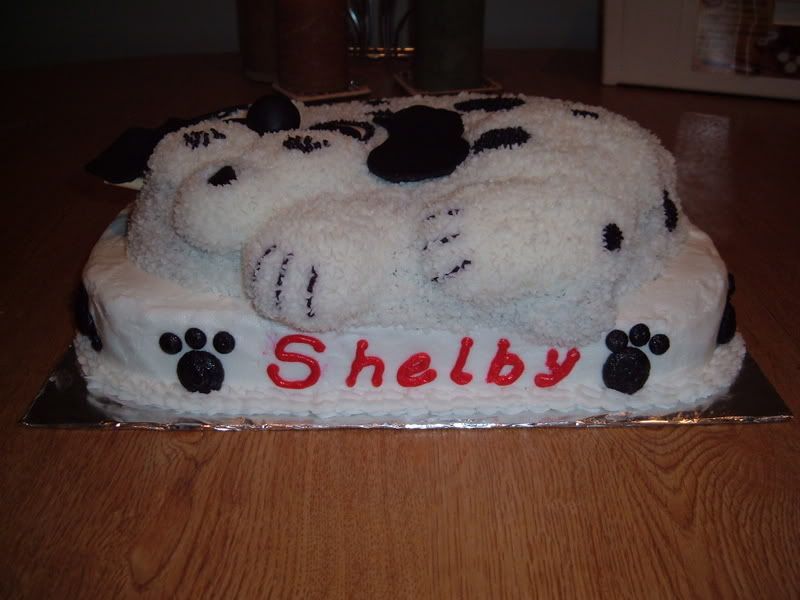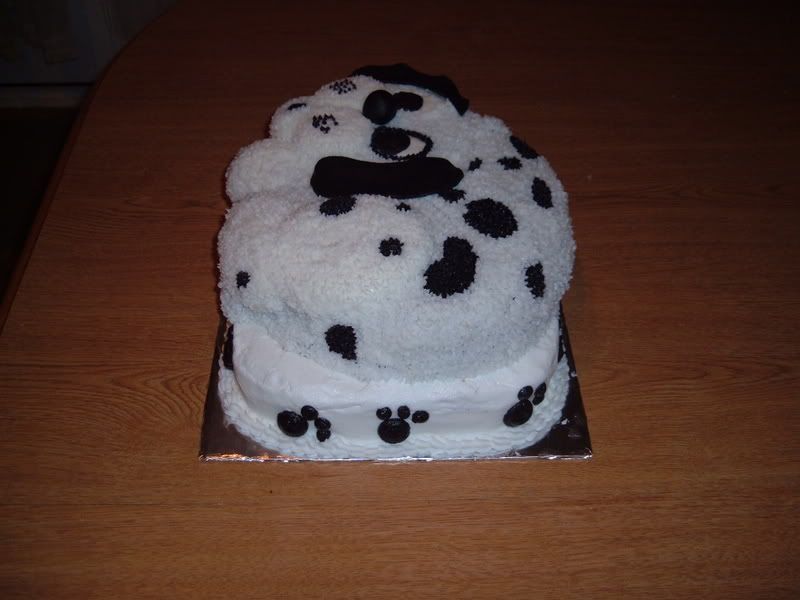 LOL! HOW CUTE !!! Is that a "dog" pan ?
I bet this took a long time but its very cute. You did a great job!!
yeah, I hate the all star cakes (gives my hand cramps just looking at them lol) but that dog is adorable!!!! My DD LOVES dalmations...and that's what she wants for her birthday cake this year...Dalmations!! this is too cute!!!
We are going to be 500 miles away from home on her birthday (it's the day after Thanksgiving this year) so we will be having her party at my in-laws house so I'm probably going to keep it simple and a lot less time consuming than this puppy ( pun IS intended lol) and just stick some toys on it (she'll love that anyhow)
But oh, is this cute!!! You did a great job and you'd never know there was any damage!! Did you have the dog cake on a separate board?? Did you have to dowel it??
This is such a cute cake!
It's the Wilton Lady Bug pan. I used fondant to shape the paws and muzzle. I didn't dowel it. Thought of that like at 2 am last night. I did have to use dowels to float his left ear out. There is suppose to be a tail, but I just couldn't come up with a concept for it to travel well. If I have to star another cake I think I'm going to tip 18 or 21 on it...no 14 or 16, take way too long.
I hate stars. I would have given up and put coconut on it and moved on.

The reason I hate stars is...I made 5 yep 5 Mickey mouse cakes for 3 different parties in a weeks time, years ago when I wasnt as smart about doing so many cakes at once.

That must have been the year of MM cause I made bunches of them for family and friends that year, still have the pan.

My hand hurt for weeks.
Pretty cake! I hate doing stars too, it's really tough on the hands.
Very cute cake! About half of my business is character cakes done with stars. I've done them for so long, it doesn't bother me anymore. I do remember some when I first started which took about 4 hours to complete. Now it takes an hour or so.