Welcome to Cake Central!

That cake is very cute, and I wouldn't hesitate to do it in buttercream. You can look through my photos and see some of the dogs I've done in buttercream. Carve the cake the same way you would if you were doing it in fondant, but pipe the buttercream on with a basketweave tip and then smooth it out.

HTH,
Deanna
Thanks for your reply!

Any ideas of the best way to assemble the body? I am practicing with a cake tonight and having a hard time.

Joanna
That is an adorable cake! Please post a pic when you're done!
I'd also consider using the grass tip (I don't know the number off hand but it's used to make grass and hair) to make a shaggy dog.
I was looking and it seems like a Wilton 3-D egg pan might be helpful in making the body. Any suggestions? I found out last night that I am not very good at carving yet.

Do you think I can do Fondant accents for the bow, feet and nose only? I have a really good Marshmallow foundant that I made.

I am fairly new to this. Although it is becoming addicting!

Joanna
If it were me, and this depends on how big a cake you want but I assume it's going to be small since it's for a smash cake, I'd take an 8" square cake, cut it in half and stack it so that I had a block of cake about 4x8x4". Now, you need to think a little less about carving a dog than about carving *just the shape.* The little body is sort of like a small mountain range, so carve a taller mountain for his little hiney, a valley for the neck, a smaller mountain for his head, just barely a valley for beneath the eyes, and a little hill for the nose. Make yourself a paper template if you think it will help. Then, I'd bake another small square cake to cut into strips for the legs.

If you have the Wilton egg and want to use it as a basic shape, that would certainly work. You could also use the 3D Cruiser pan if you have that one.

HTH,
Deanna
Thanks so much for all of your help!

I attached pic of finished product. Be Gentle, I am new at this!

I used a Wilton's 3-D Egg pan. I used one side for the body and carved the head out of the other side. (This will sound out there but I used a light bulb to get a general idea of what it should look like.) My local cake store had some fantastic small round cake pans. I used those and then cut them in half to make the legs.

I used the grass tip as suggested (it worked fabulous thanks!) and mashmallow fodant for the feet, ears, etc. (I will remove that before it eats it-not enough teeth yet!)

Again, thanks for your help! Off to finish cleaning!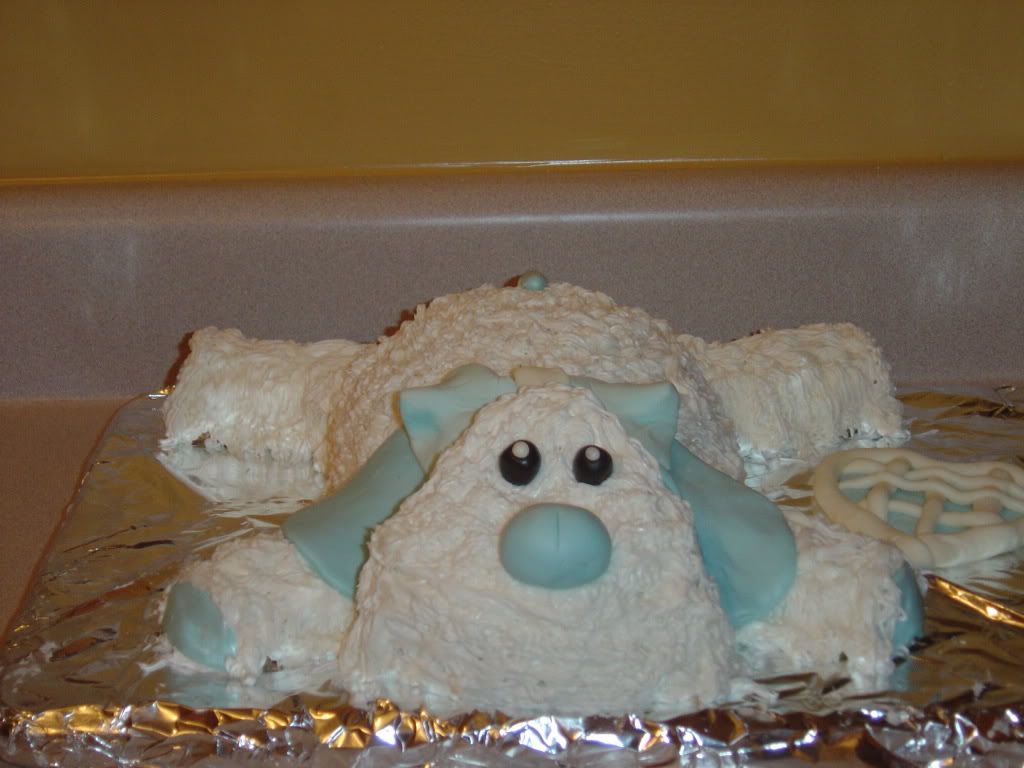 Joanna
Aw, he's really cute! You did a great job!

Deanna
i think he's cute!! You did a great job!
Thanks for the compliments! It was a lot of fun.

Here is one I call "Aftermath"

Not much left, he was wearing most of it!




I'm getting addicted to this! I'll probably be back next April for ideas for a 5th Birthday cake for my son.

Joanna
LOL! I admit I didn't really understand what a "smash" cake was, but now I do!! It must have been super yummy!
BACK IN APRIL?!? Don't wait until April to come back, we love people to look and post and ask questions.