I just saw that too, so I had to find them on the website, http://www.neimanmarcus.com/store/catalog/prod.jhtml?itemId=prod42180035&parentId=cat16131011&masterId=cat19110735&index=2&cmCat=cat000000cat000672cat19110735cat16131011
http://www.neimanmarcus.com/store/catalog/prod.jhtml?itemId=prod42180028&parentId=cat16131009&masterId=cat16131006&index=33&cmCat=cat000000cat000672cat19110735cat16131006cat16131009
http://www.neimanmarcus.com/store/catalog/prod.jhtml?itemId=prod50710081&parentId=cat16131009&masterId=cat16131006&index=31&cmCat=cat000000cat000672cat19110735cat16131006cat16131009
I think it's time for everyone to raise their cake ball prices!
If people complain, direct them to the Neiman Marcus site. Once they see that they are "trendy" and how much NM charges for them maybe they'll stop complaining and pay up!
Good lord, $75 plus shipping for 36 of those??? I used to work retail, and we referred to Neiman Marcus as "Needless Markup," this just proves it.

Am I the only one who doesn't like cakeballs? I think they're way too sweet. I made them once, and after one bite I threw the rest out.
No you are not the only one who doesn't like them. I think they are gross and the name alone just bothers me... "here, would you like to try a ball". I just didn't like the consistency. But if I could sell them for $75 bucks, I may just think they are the best thing I ever put in my mouth!!
How do ya think they get the cakes to stand still long enough? hehe

Cake balls are gross. Mushy cake and frosting?? no thanks.
Ya know, I hate to say this and in no way am I taking ANY credit for this but....about 2 years ago around Christmas, a lady contacted me that worked for NM--we actually have a warehouse or something for NM here. She wanted some different items to say "thank you" to the NM biggies.

I sold her decorated cookies, hand-molded white chocolate petit-fours (Kathy Scott's molds) and cake balls--both as balls and on sticks. Hmmmm, makes me wonder.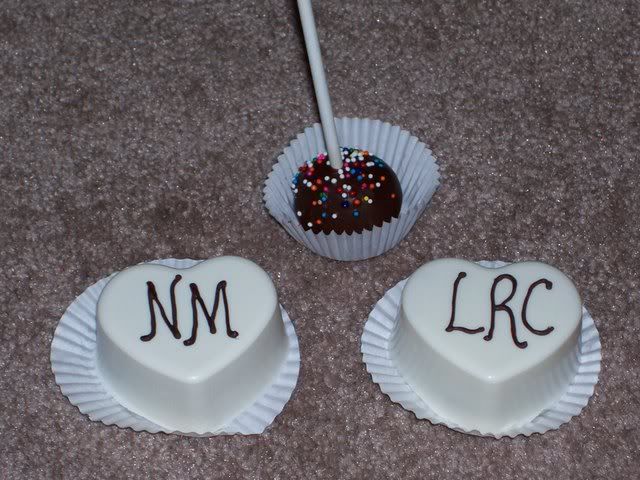 I do not like the taste of cake balls either. I thought I was doing something wrong. I used wilton candy melts and thought that could be the problem. Too sweet for my tastes too.

I think we should all call them cake truffles instead of cake balls.
I just came on Cake Central to post about this very thing! lol. I just make them with my leftover scraps most of the time......I can't imagine paying this much.

I don't like them so much either, but I think I just don't get the consistency right or something.

When they go on clearance at NM, because they can't sell them for that price, maybe I'll try them and see if they're better than my homemade ones.
It's kinda similar to the Williams sonoma ( I think it was them) last year where they were shipping 9 cupcakes for somewhere over 70 bucks. If you can get the price more power to you
Calling them truffles is very misleading, because truffles they ain't!
Oh, if someone told me those were truffles and I ate one I'd be SO mad! Definitely not truffles...what about mush balls?
I read this article a few minutes ago and just about choked on my animal crackers. I make cake balls with leftover cake scraps....I don't spend money on those gross little goo-balls on purpose. lol
I've made them from a recipe I found here on CC. I like them! Maybe I'm weird! LOL! I just put cake, a little frosting, a little powdered sugar or cocoa powder and some chopped up pecans in them. Then I drizzled a little melted chocolate over them and sprinkled them with chopped pecans. Here is the recipe I got from wolfley29 who got it from CC.


Basic Cake Balls:2 cups packed cake (use the top of a previously made cake).2 +/- tsp of powdered sugar or hershey's cocoa powder2 +/- Tbsp of flavored icing1/4 cup chocolate chips, crushed nuts, mini m&m's or other candy (optional) Mix your cake, powder, and icing together. Mix with gloved hands. Mixture should stick together easily in a ball, but not be runny in any manner. Add a little icing to start with until you get the feel for it. Once the mixture can hold in a ball form, add in crunchy item. Mix well and form. Size is up to you. I use a Tbsp for my large and 1/2 Tbsp for my mini. I lay these out in mini muffin cups on a 11"x13" sheet pan. Then I place this in the freezer for about 10-15 minutes. During which time I melt some chocolate and place in a disposable bag. Then I drizzle it over the cake balls. Sometimes I will just dip the balls into the chocolate itself to get a full coverage. Then when that it almost dry, you can roll them in nuts, graham crackers, or coconut.
I tell people I make cake balls from all the "boy" cakes I make!
Cake balls just are all the right things in whacked proportions! "Can' stan' 'em!" ~ Lina Lamont, Singin' in the Rain 1952