Oh how cute thanks for this tutorial!!! My SIL is having a baby and this would be a perfect present when she has the baby, since I already made her a baby shower cake.

Thanks so much,
Jessica
I've made one using a mailing tube as the center. The benefit is that you can put other gifts in the middle and you have an easy way to add a great silk flower to the top... just cut an X and insert the stem

I was able to order the more eco-friendly disposable dipes and use them for the diaper cake. The bottom layer is nature baby care (one whole pack of size 1s) the top two layers are "G" diaper refills. Humondo pics --- sorry!!

front: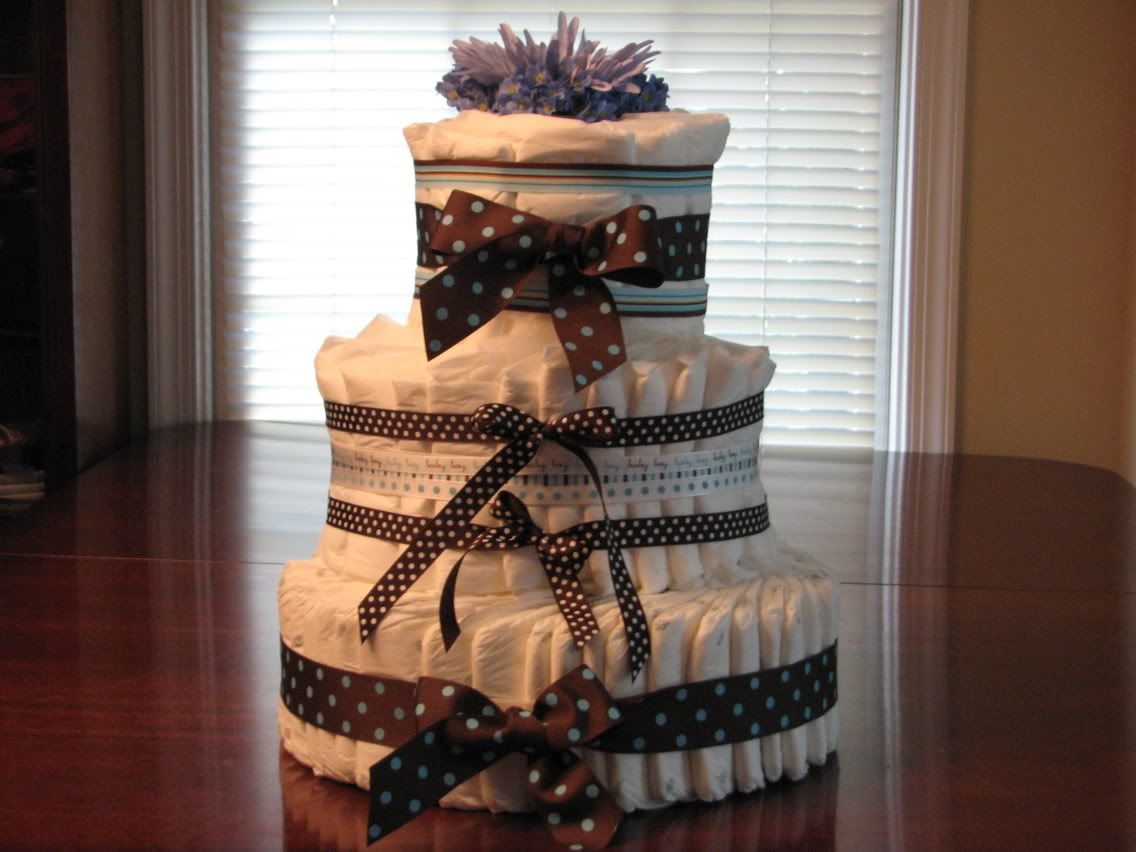 back: (The lid wasn't closed all the way when I snapped this photo!)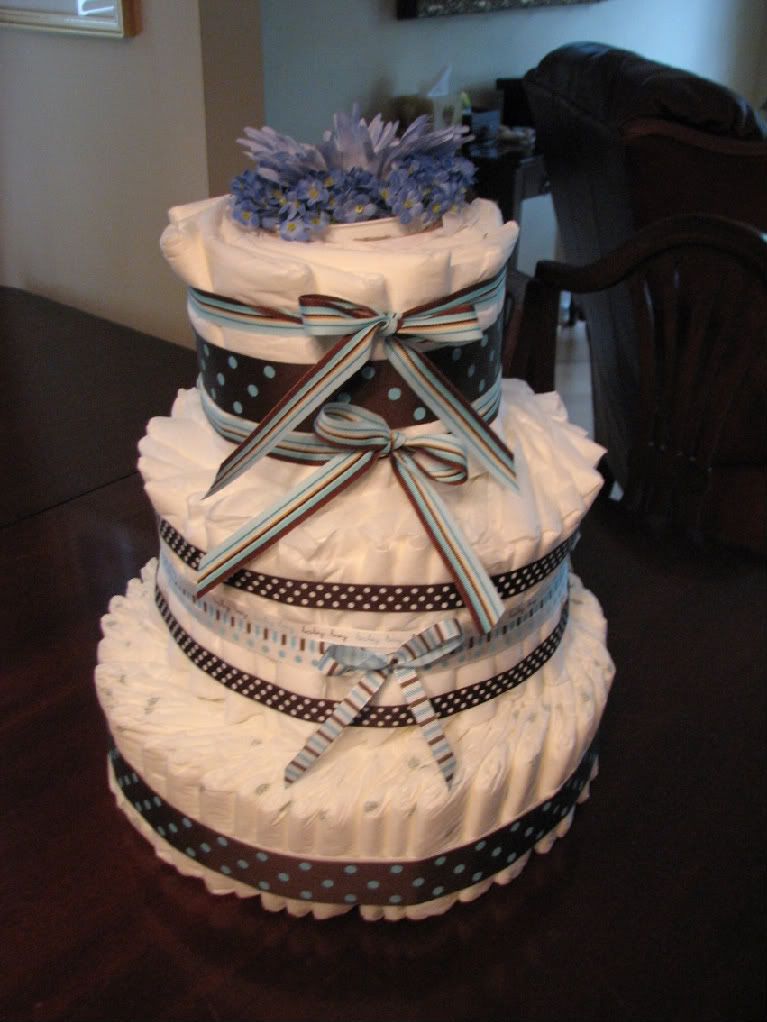 during construction: [



I used elastic to hold the dipes on - and later covered the elastic with the ribbons. I covered the mailing tube with clean white paper since I actually expect the parents to use the dipes!
This was super easy and tons of fun!!!
Isn't this site about edibles?
It's about edibles but I think it's also about creativity and inspiration. I think it's neat that everyone shares there stuff!
Quote:
Originally Posted by Iloveweddings

Isn't this site about edibles?



Cake Central Gallery Terms mentions that :
DO NOT UPLOAD PHOTOS OF NON FOOD ITEMS. ANY PHOTOS OF DIAPER CAKES &/OR OTHER CRAFTS/SUBJECTS WILL BE DELETED IMMEDIATELY.
I know it's wonderful to share but there are rules to respect .
I think the don't upload non-food items just applies to the gallery? Not sure, but there's a lot of random stuff allowed on the forums. If this wasn't allowed they probably would have deleted it already. Does anyone know?
It would be cool to have a forum for other stuff like diaper cakes. It seems that quite a few people are interested....?
Thanxx Baking_Booth!!! I know about the rule 'cuz all my hard candy and marshmallow pics were deleted from the galleries but oddly enough there is a candy forum so for that the rule is you can talk about it just dont post pics. As for the non edible diaper cakes from now on i'll just share somewhere else so no feathers get ruffled.
I don't think anyone should get ruffled by a non-edibles topic, but neither should others get ruffled by people wondering aloud if the topic is appropriate. It's true, there are lots of non-edibles topics floating around, some of them at least tangentially relevant to the world of caking, some...not so much. Ideally, all of these topics would end up in the Lounge since that area is specifically meant for non-cake-related discussion. I have to admit, since this was posted in the How Do I forum I thought it was going to be about those cakes I have seen that are fashioned to look like a stack of diapers.

Personally I think the topic of diaper cakes (as a discussion topic, not as an obviously inappropriate "Gallery" upload) is a "grey area" since it is a creative decoration that would be completely appropriate for a cake-baker to utilize as a gift! The same way someone might post that they saw a really clever caking t-shirt or bumper sticker, etc. I mean, if I wasn't giving the cake as a gift at a shower, I could totally see myself offering up a diaper cake as a cute alternative. (For what it's worth, usually those posts end up in the General forum, although they technically belong in the Lounge. That is not a critique by the way, it just seemed to be worth pointing out.)

If you're ever unsure about a non-cakish topic, just pop it in the Lounge and I guarantee not a single person will get ruffled.

OK I can't guarantee that actually but I am optimistic!
i do mine totally differentuse about 95 nappies and i roll each one individually (well usually hubby rolls and i secure with mini elastic band sounds time consuming but we normally roll 95 napies in 15 mins) then squish them all in to my variouse cake tins of chosen size also popping in goodies like wipes, bottles, baby bathetsc, get my cake cards and drill holes through the centers. get a super elastic band and put over all nappies in the cake tin and tip out cake card wrap ribbon to secure tightly. get a center dowel like you wold a tall cake and thread tiers over central dowel as you do a tall cake secure top tier with an additional cake card and then secure hole lot tightly with an elstic band on last of the dowel then decorate. pm me or feel free to post questions if you want, here are two recent examples made for two friends due exactly 1 month apart the stars cake is for a baby shower sunday.

My feathers haven't been ruffled. lol.
Beautiful diaper cake! I love the bottles and the toppers, super cute idea! I love that your hubby helps you, mine too, how sweet.
Maybe we could have a forum page just for tutorial/pictures since there seems to be interest. Who do we talk to see if that's acceptable and where exactly to put it?
There is a forum thats for anything that is related to edibles. For people to discuss ANYTHING. I don't think its a big deal, but if some people are so concerned then why dont you just put it there.
thanks! he helped cos they were for good friends he doesn't come near the realk cakes! lol! well unless i actually ask that is he just smiles and says 'thats great babe' even if it wasa amess!! hehe
I just wanted to add that the sky's the limit with diaper cakes, just like edible cakes. Here's one I did for a friend a few years ago. I used the rolled method too.