I thought I would share because it got me laughing today when I really needed it!

about a week ago my son who is 4 broke 2 legs off one of our little elephants we have on our coffee table (we have a family of elephants 2 adults and 3 kids ... to represent our family) Anyway he broke 2 legs of daddy elephant and while I was in the other room working today he decided he needed to fix the elephant. he was SO excited to tell me that he BY HIMSELF fixed it. This is what the end result was.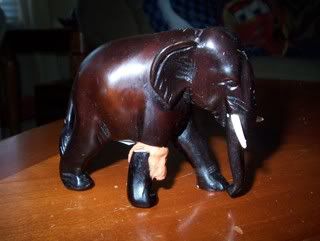 Yes that is GUM
Awesome in SO many ways! lol
OH, how sweet is that. That would have made me smile and laugh like crazy.
Awwwwww! How cute! And SMART! lol!
awww... so sweet...I love it
thanks everyone ... I am just glad he used gum and not a bottle of elmers glue that would have gotten dried everywhere and worked into the carpet lol.
Well at least he didn't use duct tape like most men would.


Kim
AmandaPanda.....I love it, and yes it made me smile also, and I really needed it.

When my daughter was in preschool she had colored some pictures and was very proud of them. I went in her bedroom and they were all attached to the wall. Upon investigation I discovered she had used peanut butter to stick them to the wall. Made for a nice grease spot on the paint.
Kim, If there was duct Tape I am sure he probably would have used that LOL


BCJean ... that's great and very innovative ... PB=sticky ... good wall hanging material lol
How cute is that. High five to your little helper