So I am pretty good at pricing wedding cakes. I start at 2.50 for buttercream. I had a bride request a price quote for this cake.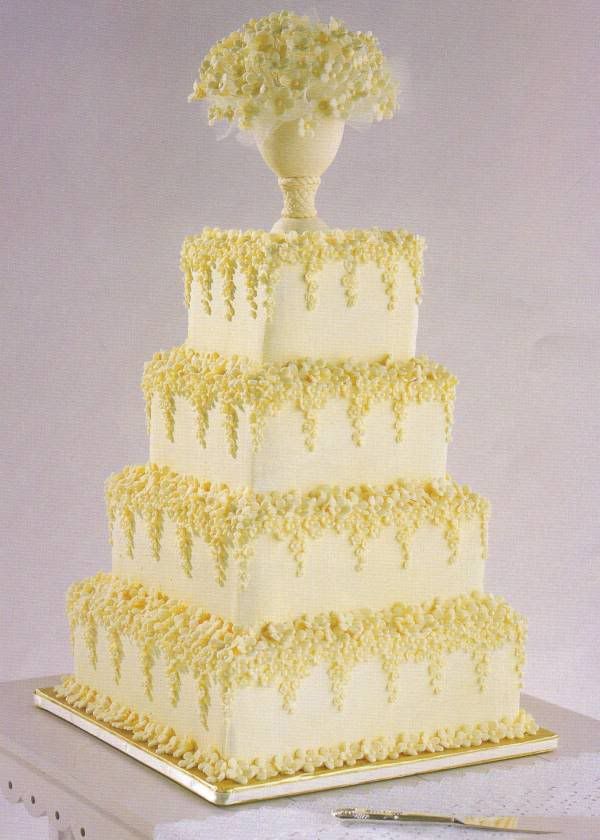 There are about a million of those little fondant flowers. If she does get this cake I don't want to undercharge myself. So what would you charge? IndyDebi would this qualify for an upcharge for you?
I don't have a business, so I'm really no help, but whatever you charge, it better be more than 2.50 a serving! Plus you have to make that topper, which could be pretty time consuming.

I agree with a lot of people when they include basic design elements into the price. To me, the row of big flowers on each tier would be included, and I would charge for the rest of the flowers. I wonder of you can order them anywhere?
It's a very pretty cake though!
Wow, K8, both those cakes are gorgeous.

However, I prefer the one with the piped flowers (wouldn't have thought that before I saw the pics). It seems a little more delicate, because one can pipe tiny buds.

Also, I think the first one looks a little more like what the bride is wanting. If you have to, maybe a combination, but I'd show the bride an example and give her the price differences with just BC/piping vs. BC and fondant/GP flowers.
I have another cake to price because I told her this one would be very expensive so she does have a back-up. I personally don't like the buttercream piped on and I am not sure that is what she is looking for.
Definitly you are going to spend a lot of time making flowers. You should charge no less than 3.25