Ok so im making a cupcake tower for my sister in laws wedding shower. The colors of the invites are hot pink and lime green and so is all the decorations. so i did the cupcake tower that was on cake journal. So it seems kinda bright to me. What do you all think? Should i leave it as is? Change just the edges to pink? or change the center to white and just eliminate the green all together. Cause im also doing cupcakes w/white frosting and pink and green polka dots. and nfsc with mmf white back ground with hot pink and lime green dots.

Dont mind the messy table sorry




This is from now i just put the pink on the 2 top tiers to see what it would look like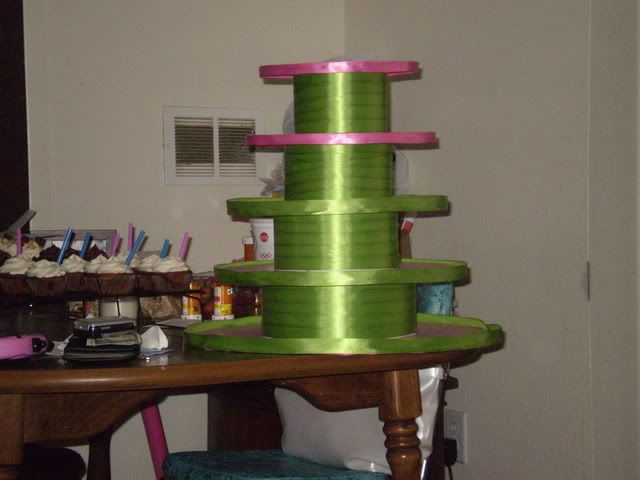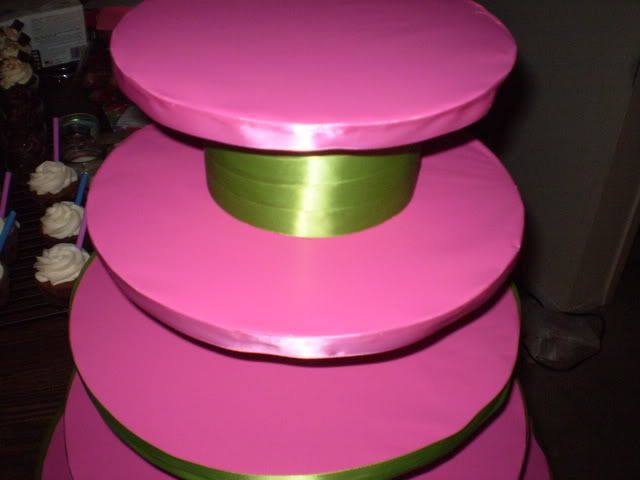 Thanks all in advance for the advice
I like it better with the green edges. If it were for the wedding, I'd worry about it being too bright...but I think it's great for a shower. If you look at your pictures, you'll notice that it looks a lot calmer once you moved it off of the pink tub
If you're putting it on a white tablecloth, then I think the colors are perfect.
i wonder how it would look with the center colums being white. to off set the pink and green?
I like the green edge better, I think once you put your white iced cupcakes up there it will help calm it down a lot and look good.
Thank you all. So i put some cupcakes on it will be around about the same color minus the dots of course.




I like them both it toned the center down alot.
I think pink on every other tier would be nice...
I like the green edges, best
.

The one thing I would say, is to center the columns (not sure if they're drilled together or individuals).. That might be what "does it" to get it to look right together... More than the color, the allignment is what I noticed ..
Coutoure-I havent mounted them yet. Im leaving them in pieces till the shower cause i have no space for it put together. Im gonna do pink. Thanks again all