Given the fact the Gumpaste flowers are not edible, can other material sources be used to color or give detail to them after they have harden? I have about 30 bottles of non-toxic craft paint from Michael's Craft store, can I use these straight from the bottle or even water it down to paint the flowers? I also saw on a post here one user grinded down chalk and used that to dust the petals with. Just looking for other methods to use color safely without having to purchase so many different lusters and dusters until I starting getting an income for my cakes.

Any thoughts?
B2B
I'm posting a reply to my own question
. . . . but what about using a gel paste and thining it down? And what would I use to do this . . . corn syrup, vegtable oil?

B2B
or gin, vodka, everclear, lemon extract(any clear extract actually) the alcohol allows the thinning of the colors to be painted then evaporates leaving the paint dry.

when I tried it with piping gel...ugh...it remained tacky for what seemed like forever...seems like corn syrup and oil would do the same.
I have painted on gumpaste flowers with chalks. The chalks were labeled non-toxic, and they were from Hobby Lobby...a big set of artist's chalks for five dollars. I think it has 30 colors, maybe more. I also bought tiny plastic containers with lids so that I can store some ground chalk and don't need to grind more each time I use it. I painted it on with a dry paint brush, and then held the gumpaste flowers over a pan of boiling water for a couple of seconds to set the color (don't touch the flower until it has dried).

I was taking a picture of the whole thing, not just the chalk detail, so I'm not sure how well it shows up.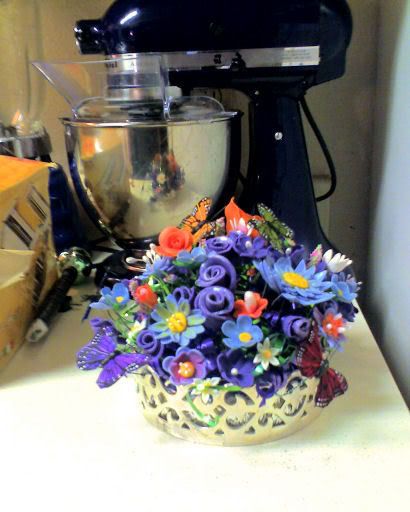 You can paint fondant with gel colors, or gel colors thinned with vodka. I did that on the strawberry cake in my photos, on the leaves, thinned down. I also painted full strength with purple on the sign on the tiered birthday cake in my photos, and on the locket on the tiffany box cake.
I've used thinned out gel it is good for tiny lines and details like spots. You could use the same colour as the gumpaste piece to give it a bit of depth. You could also use ground up coloured sanding sugar like I used on the stamens of a Calla lily and centres of daisys. You could probably fine grind it and possibly add more colour to it and use it to dust.
Good luck

gumpaste is edible...maybe not tasty.

I know quite a few people who use non-toxic pastel chalks ground down to dust their gumpaste items with....

I would recommend a barrier between the flowers and the cake surface if using something not fda approved and also label it as "for decoration only", "Do Not Eat"...
. . . non toxic chalks are often used . . . I have used these with eye shadow applicators or paint brushes and applied dry . . . you can then "set" the chalk (which will also darken or intensify the color slightly) by steaming the piece for a couple of seconds . . . I was happy with the results and have used this method for coloring butterflies, flowers and leaves . . . the chalks are cheap and come in multiple colors . . .
Quote:



Thanks! I didn't make the butterflies though
Hobby Lobby did!

You know, instead of uploading photos as attachments, you can put them on a file host site and then paste the img code in your post...if that's ever easier
I do it that way because the other forums I've used didn't allow attachments so they had to be done that way and lately I'm feeling too old to learn any new tricks. I use photobucket because it's free.
Thank you all for putting my mind at peace that some of these items I mentioned can be used and have been used. I greatly appreciate your words of wisdom and will use your tips when I make this cake in June.

B2B