Ok, so I've been up forever trying to work on my moms birthday cake. I have the bottom tier done . . . just waiting for the royal icing to dry so I can dust it with gold luster dust. Before I move on to the next tier, I could use some help!

Any suggestions on how to successfully cover a round (Wilton ball pan) cake??? I am making it into a teapot but I never got the time to practice before!

I have to drive for probably 1 1/2 to 2 hours to get the cake there. (Its normally only 45 minutes but I am anticipating a nightmare drive due to the fire closures.) Should I wait and put the ball cake on once I get there, or just wait to attach the spout and handle once we are there?

I made the spout and handle a few weeks ago from gumpaste mixed with fondant. I made sure to put toothpicks in so that when I putting them on I can use the toothpicks to make them all more secure. The big question though is, will this be enough? Should I use some royal icing to help make it even more secure???

Thanks in advance . . . any suggestions are really appreciated.

Here is a pic of what I have so far . . . I wanted to do a square bottom cake so that it would look more like a table with a cloth on it . . . but the snickerdoodle cake my mom wanted was so crumbly that the squares were impossible to get nice and neat. I had to do round . . .
The royal icing detail on the cloth will be dusted with gold luster dust in the morning . . . the colors are actually peach and ivory . . . sorry about the bad lighting.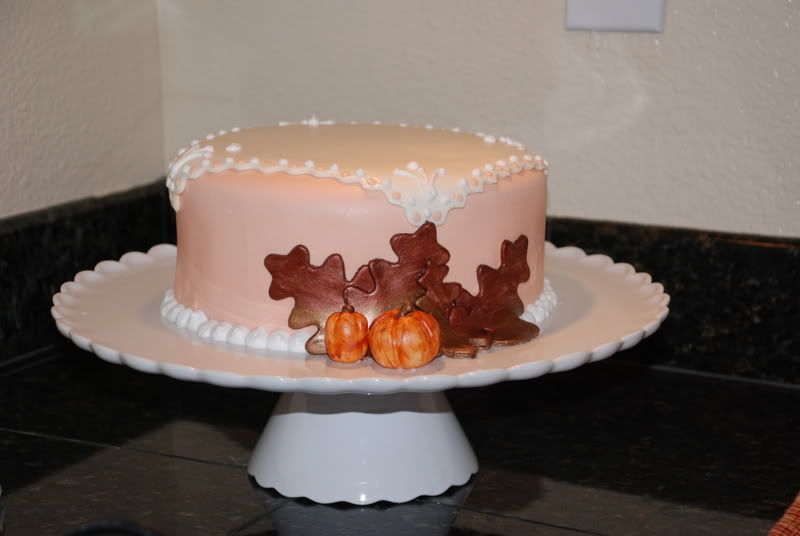 looks great. can't wait to see the teapot. sorry I don't have ideas for you, but I would add RI for glue along w/ toothpicks for a more secure hold
anyone???

anyone have any pointers in covering the round cake with fondant???
Well - I'm not an expert
, but I had no problems covering the ball cake with fondant. I even used MMF on my first one. I cut a little foamcore board - probably about 3 to 3 1/2" in diameter - and glued the cake to this little board with frosting. My cake seemed to flatten out onto the board - I did not cut a slice off. I put the cake on a jar about the same diameter as the board so that I could get my hands around it and just pretended that the ball was a round cake
. I had no problems at all. Just keep pulling the edges out and smoothing down with your hands. Work from side to side - just like a regular cake - so that you don't end up with one big pleat when you get back around to the starting point. Gently lift and smooth down - I didn't have a single pleat. I cut the excess off around the bottom edge of the little board. I would wait to stack and attach the handle and spout. My spout and handle were not overly large and heavy, but they started to sag after about 6 hours
. I had put cocktail skewers in them and used glue made from fondant and water to attach, then covered with a little BC border to mask the seams, but they still sagged. The humidity here is brutal - that may have been a contributing factor.... Your bottom tier is gorgeous - please post the finished pic
Thanks for all of your suggestions.

I ended up covering a few flaws at the bottom with a band of leaves. It wasn't what I had orginally dreamed up . . . but my mom was really pleased so it was all worth it.

I'm posting the finished product both here and in my photos.

[img]
[/img]