I made this cake for my dgs 1st birthday party on sunday
I am not very good with fondant figures yet so I used some toy dinosuars and weeble figures on it.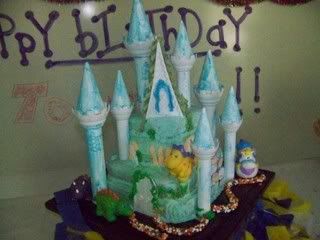 very pretty. the colors are so beautiful! be proud!!!!
You did a good job I also like the colors.
How great to be able to make your dgs's 1st birthday cake!!! I can tell you it would be a thrill for me!!
This is a very special thing to make the cake for a special day...great job!
That is a fantasy cake for a 1st birthday. WONDERFUL JOB!!
Thanks ladies. I had fun with it. We had his party at our new business, The Wilson County Playhouse.We are having open house this weekend there, with Halloween games and trick or treating and a costume contest. I am making mini cupcakes to give away, and a couple of big cakes for door prizes.We have several people already booked for birthday parties in the next month. Hopefully we can get more from the open house. Wish me luck,please.