HELP!!! I desperately want to make a gingerbread house similar to the picture below . . . but I am the worst at making patterns!!!!

Can anyone here help me out with dimensions or a drawing so I can cut the pattern from posterboard???? I have my heart set on a variation of this house and nothing else is making me happy . . .

[img]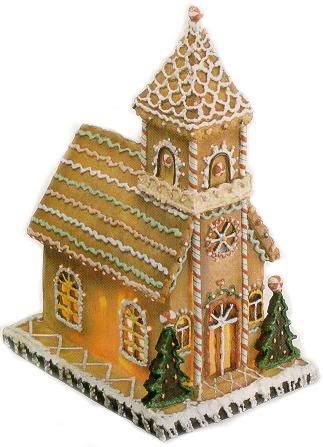 [/img]

I found this image online but the website didn't have patterns . . . I apologize for not remembering where I found this picture at.
Good Morning,

You can type in: www.ehow.com then go to Holidays and Triditions, then Christmas, the Holidays and Special Occasions and lastly Make a Gingerbread Church. That will get you directions for a church.
oky doky...here we go.

FIRST --- THANK YOU MS. STRANG where ever you are for teaching me Geometry and esp. that Pythagorean theorem!!!

Now if I get the pics in the right order.

the first pic is the deconstruction of the art to get idea of how big this thing is and it is HUGH!!! 12x9" base and a good 20-22 inches tall!

------------

note: the blue lines --- blow up until reads 1/2 inch scale

-----------
ok...now to the patterns:

front w/ embeded steeple front (gray area) is 9" wide at base

steeple sides ...cut two of the boxes at top on front and then cut third and remove the point of the main church wall.

steeple roof (gray area embeded in front diagram): 4 inch at bottom (need four)

sides...pretty standard -- 12 long and 8 inches high (need two of these)

roof.... again easy rectangle....gray area is where the steeple goes. (need two of these)

back...easy cuts (need one)

also included my best guess at placement of front windows and doors...but I suggest you adjust.

WARNING--> cut whole thing out of poster board and assemble and adjust as needed (I haven't done a physical mock-up of this yet).

whole thing could be scaled to half size by treating blue squares as 1/4"

___________

note: all patterns in patterns and templates gallery too! -- bigger & better quality than these!
___________

HTH!

To say the least, Doug, you are AWE INSPIRING! What a wonderful gift you have.
I second that!!!

Oh my gosh....how SWEET of you to take the time to draw it out an explain it to everyone!!! Especially to those of use who are...umm...should I say "mathematically challenged"....
HOLY COW!!!!!!!!

DOUG YOU ARE A SAINT!!!!!!!!!!

I can't wait to dig in and get this started . . . . No way would I have been able to come up with anything even close to these plans!!!!!!

Your the best!!!!!!!!!!!!!!!!!!!!!!!!!!!!

Thank you thank you thank you!!!!!!!!