Can someone please explain exactly how to apply icing to my cupcakes so they'll look like these? Please detail what tips are needed, too. I really want to make cupcakes look like these but so far all of my efforts have failed.

Thanks!!!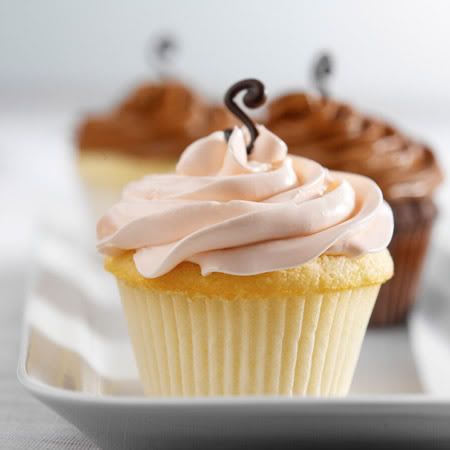 [/img]
For the top peach colored one, it just looks like a swirl, starting from the outside and working in, using the large 1M tip (Wilton).

Not sure about the other 2 but I'd sure like to find out - they look great.
The first one looks like a round tip from the inside out. The other looks like a round tip, just really big. I'm not sure what size.
The second picture looks like they took the back tip of a spoon and swirled from inside out......no clue about the last...........they are beautiful though....would love to know as well. Sorry i couldn't be of more help.
As stated before the first (peach) one is done with a large tip (1M) and swirled from the out side in.

The second picture has the cupcakes iced plainly and then the tapered spatula is run through the icing in a circle to give the swirled effect.

The 3rd picture doesn't look like it is even icing at all. I believe that it is marshmallow (homemade) piped onto the cupcake top and then left to settle on top to give that superior mound look.

Have fun and let us know how it works out for you. Hope this helps!
Wow, they are great aren't they?

The last one looks like the inside of one of those Marshmallow Puff cookies, with the crust, a layer of jam and enrobed in chocolate. Maybe you have to extract the middle.


Could it be some kind of stabilized whip cream put on with a large round tip? I'd love to know as well.
The chocolate ones in the bottom picture look like homemade marshmallow has been piped onto them. For the top picture I have used tip 2D to get this same swirl and they always look very nice.
The middle picture looks like icing was piped on then swirled by hand with a spatula or something similar.
As several people said above, the 2nd style of frosting displayed above is done using a large spatula. Here are 2 things that might help you further as I always find visuals helpful. First is this video of Seattle cupcake store employees frosting cupcakes this way:
Second is this animated image of a different store's employee doing a similar technique. Hope this helps!
I think the second one was done with a coupler and no tip... The kind of coupler with the slit in the side. It looks like that ridge was made by the frosting coming out of the slit - depending on the angle of the bag.