Hello! anyone have a good recipe for german chocolate cake!! for the filling as well as the frosting?

Also, can you make german chocolate cake from a boxed cake?
I use the recipe in the Better Homes & Gardens Cookbook and it's really good, very moist! You can buy a cake mix that is German Chocolate too but I don't really like box cake mixes so I don't use them but maybe there is a way to doctor it up to make it taste better...have you checked to see if there is any recipes listed here on this site?
I make my German Chocolate cake using devil's food cake mix doctored with buttermilk (in place od water) and applesauce (in place of oil). For the filling I use fudge icing. I also do a thick crumb coat of fudge icing. Then I ice with the pecan coconut icing typically found on German Chocolate Cakes. I then decorate with more fudge icing. Many people think they are not good for custom decorating. Not so! I have also decorated with chocolate transfer: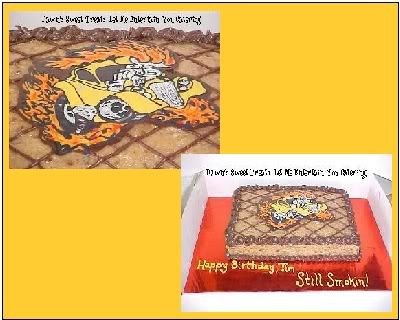 AHi can you please share your pecan coconut icing ?
theres a German chocolate cake recipe on allrecipes.com. Its called the Willard family German choc cake recipe. I have used it many times and had great success. Also the recipe that comes on the inside of the German chocolate box is a very standard recipe that produces a nice cake too. Good luck! :)
My favorite is the one from Baker's Chocolate. The ORIGINAL recipe. You can find it by googling those names.
Can't beat the original recipe on the back of Baker's Chocolate. The best in the world!
ACan anyone please share their recipe of the German chocolate cake, which is on the back of the cake box