I've done two transfer cakes and both times I've had a problem with the filling in of the design. The first time I was doing Elmo, so I just made lots of shaggy fur and all was well. Today I was doing Darth Vader, and while it looks okay, it's really rough on top.

Here is a picture: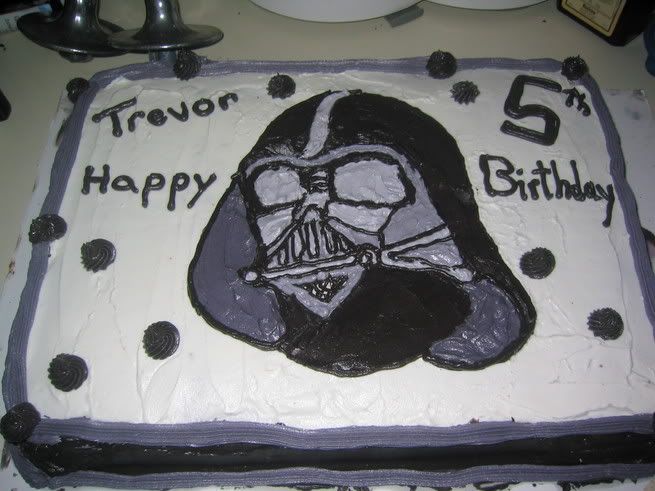 You can see that it's all rough on top.

Also, what is the best way to get perfectly straight lines for the edges? After working on this all morning, my arms just gave out and it went all wobbly.[/img]
Did you do a frozen butter cream transfer? If not I would try this technique, it you get your frosting thin enough to fill in the outlines it usually is very smooth once you flip it over. The other thing I have done is like a frozen transfer, but it's done with candy melts and then flipped over, no freezing involved just let candy cool long enough to harden.
Hope these suggestions help.
Kate
No, it wasn't a frozen buttercream transfer.

I just outlined the design onto parchment, flipped it, then outlined with frosting. I chilled that, then pressed it into the top of the cake. 99% of the piped frosting came off onto the cake, so I just filled in the gaps, then "colored" Vader and did a bit of sculpting of his helmet that you can't really see in the picture.

I've read about the frozen buttercream transfer, but I've never done it. This was only the second time I've decorated a cake with more than "Happy Birthday", so I went with the same technique I knew I didn't screw up last time, lol!

Is it hard to do detail with the frozen buttercream transfer?
Hi Tiga,

No, frozen buttercream transfers are not hard at all. Here is the link to an article which tells you how to do it.


http://www.cakecentral.com/article12-How-To-Create-a-Frozen-Buttercream-Transfer.html
Welcome Tiga ! (I'm VickiG here too).
What recipe of icing are you using? I like to use a good crusting buttercream frosting recipe. I find that the easiest way to get it smooth is to let the icing crust and then smooth gently with a viva paper towel.

As for transfers....I also find that buttercream transfers are just too much trouble for me. I like doing the gel transfers far better. After frosting and smoothing you cake....just let it sit in the refrigerator for at least 20-30 minutes. The icing will get nice and firm. This will make the gel transfer work much better without tearing up your icing. I would recommend fill your design in with tip 16 stars instead. This way you are not stressing about getting it super smooth and it will still look nice. Hope this helps you some!
hey tiga i am new and then not so new i have done different cakes but to get a smoothe surface i put a little powdered sugar on my finger and slightly pat down bumps and stuff. if the area is big i put the powdered sugar on wax paper and ten smooth it gently this works great for me. but i do use the #16 tip as well if don't have alot of time to make something as smooth as i would like good luck!!!!!!!!!!!!!!
Lots of great ideas. Thank you so much. My birthday is coming up and I'll try them all, probably, lol!