I posted a photo of my DIY cupcake stand and had several requests for more information, so I figured that I would share.
I do ask however that you build these for your own usage and not to sell.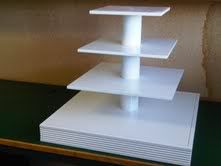 The assembled stand.
Now this stand is great because you can mix and match sizes in order to get a stand that is the perfect size for your event.
Materials
- 1 sheet of 1/2" plywood (standard US size of 4' x 8')
- ABS/PVC pipe (I used 3" diameter pipe)
- 3/8" Threaded Rod
- 2 - 3/8" Nuts
- Trim board or feet for your base
Start by cutting your plywood using the following diagram. One sheet of plywood will make enough pieces for two complete stands.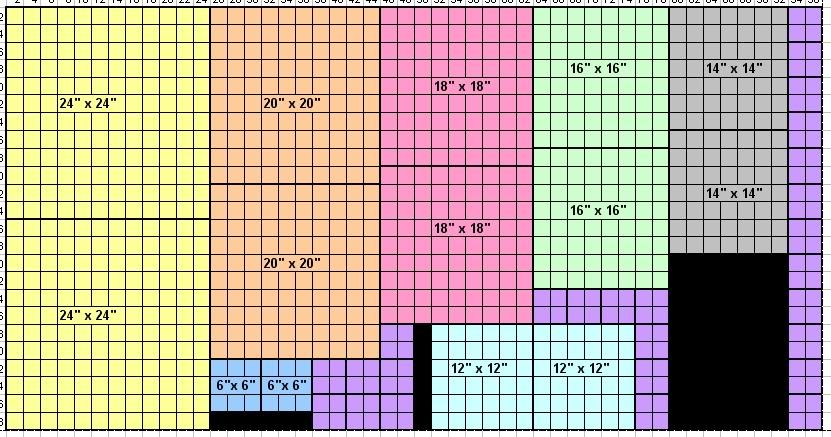 The purple sections on the diagram are going to be where you will cut your disks from so you don't actually need to cut the squares, just don't discard those pieces. The black pieces in the diagram are scrap pieces of wood, you will not need those.
Then you will want to cut your pipe to length. I like a little extra room for reaching in for cupcakes so I cut mine to 5 1/2" tall. In this step it is important to make sure that the cuts are level as this is what will keep your cupcake stand level as you stack it. I tried using a hand saw at first and found it made very unlevel cuts. Then sand your edges so they are smooth and level.
Measure the inside diameter of your pipe and purchase a hole cutting drill bit of the same size. Use the areas of the plywood marked in purple to cut disks. You will then affix the disks to the center of the plywood pieces using a bit of wood glue and some finish nails.
For the piece you intend to use as your top, you will affix a disk to only the bottom of the piece. For all other pieces there will be one on the top and one on the bottom.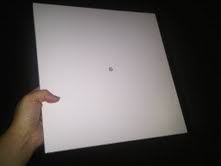 (this was my top piece, I chose to use the 12" piece as the top of my stand)
Then mark the exact center of each board and drill through with a 3/8" drill bit.
Then use the trim board to finish your base and then paint all pieces white. Make sure to use PRIMER as the wood will suck up a ton of paint.
Once all of the pieces are dry, have fun stacking to determine your finished height and then measure to determine how long of a threaded rod you need. I bought several sizes so that for smaller parties I will only use a couple of levels and for larger parties I can use a taller stand.
Hopefully this is helpful. Sorry that I don't have more in process photos, but I didn't intend to make a tutorial.
All in all, I think this cost me about $75 in materials/tools/paint for two large cake stands.
Let me know if you have any questions.