Hi there. I've come close to the cake and cream cheese frosting recipes used by the franchise chain, "Nothing Bundt Cakes" http://www.nothingbundtcakes.com/ but can't get the same tiny, light crumb of the cakes and the taste of the frosting "just right".
Has anyone had any success replicating these cakes? It's kinda embarrassing to be buying these wonderfully tasty cakes when I'm a hobby baker....

I've never had them...Are they like a pound cake or lighter than that
Much lighter than a pound cake, but with a very small, tight crumb with no air bubbles. Here's some photos. The samples are tiny, very light bites of heaven that practically float. Although most cakes are sold with their signature cream cheese frosting, there is actually a very light cream cheese taste (nothing like a full-on cream cheese flavor).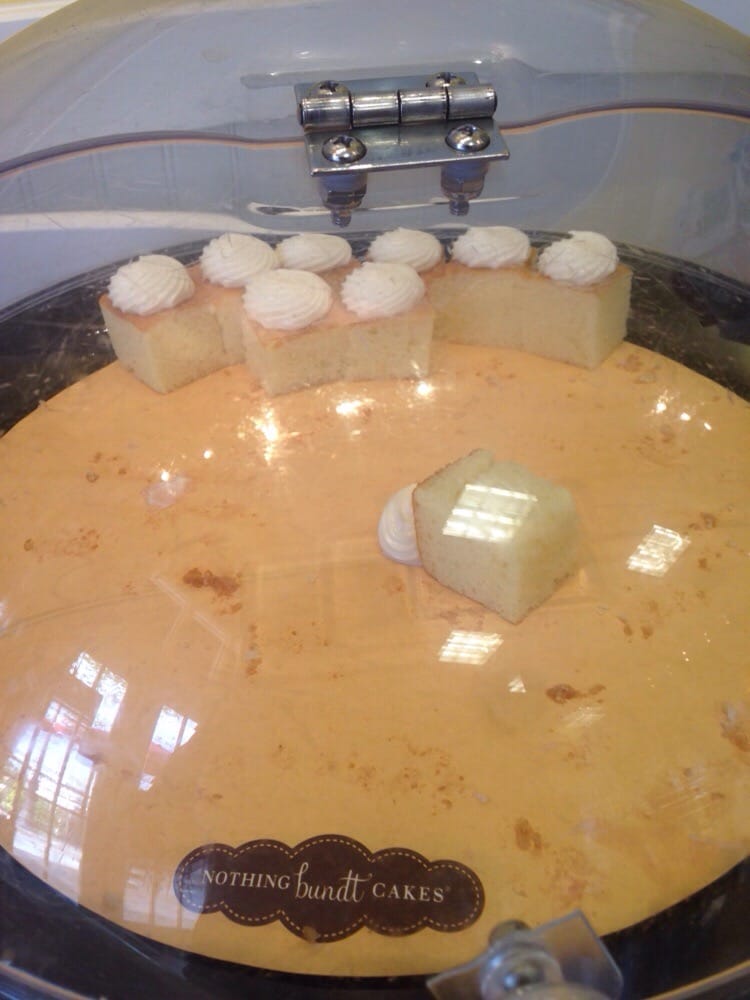 *Last edited by
Apti
on 8 Oct 2015 , 4:50am
I'm at a disadvantage never having tasted or seen these cakes - but in my experience that type of cake texture tends to be a commercial mix that can't be replicated in scratch bakes. I'm ashamed to say that despite my husband loving my scratch cakes he also adores the cupcakes from bakeries made from a commercial mix!
For the frosting, could you try a Swiss meringue better cream with cream cheese added to taste?
Sorry if this answer is naive - I'm sure you've thought of these options already. Good luck on your quest - I have been trying to replicate a chocolate brownie from the bakery near my mother's house for years - they're the best thing about visiting my mother!
*Last edited by
Apti
on 9 Oct 2015 , 6:51am
Ok, I do have a pound cake recipe baked in a bundt tin that has quite a fine and tight crumb, I will dig it out and try to send it to you. From memory it has cream cheese in the ingredients but I can't promise the perfection you're looking for! It might give you something that you can tweak at least though.
Found my recipes - they're in a book by Carole Walter called Great coffee cakes, sticky buns, muffins and more. If you don't have the book, send me a PM and I can pass on a couple of the recipes I like.
Thanks for the sweet offer, I'll try to get the book on online.

I've not heard/had these cakes, but I do like cracking codes
...insert perverbial disclaimer here: what follows is not necessarily a solution, but rather a bit of lite reading, some suggestions, and google-verse findings to ponder. enjoy! (or disregard...your choice)
and keep in mind that 'n-b-c' is a successful and growing franchise...there are secrets...oh yes, guarded secrets...secrets (whisper)
here's an interesting tidbit, http://www.sandiegouniontribune.com/news/2007/apr/19/first-bundt-cake-franchise-opens-in-poway/, crediting the bundt shape pan and properties to NordicWare and the secret ingredients dry cake mix to the 'n-b-c' founders. that's right, it starts out as a dry mix! btw, the franchiser had to sign an 'agreement' of secrecy.
here's another, http://www.munchiemusings.net/2012/01/nothing-bundt-cakes-new-to-sacramento.html, stating the dry mix comes from corporate, the dairy and eggs are fresh and added/baked on site. same article touts remarkable shelf-life properties too, stating cakes stay fresh and moist for 3 days on the counter; which doesn't sound extraordinary to me, but rather sounds like a normal cake.
I had no luck finding the ingredients list or instructions for the dry mix; guess they get away with not posting this because they don't sell it to the public...secrets (whisper). convenience says the dry mix is all together, like a store bought box, but baking logic says creamed butter/sugar produces airyness. since sugar is not ever mentioned as one of the fresh, locally added ingredients, is there creaming involved at the franchise? not sure, but if I were tackling this recipe from scratch I would stick with a creamed butter/sugar method for maximum airyness.
have you tried separating the eggs, whipping the whites into a soft meringue, and gently folding the meringue back into the batter at the end? (same concept as a sponge cake or fluffy waffle) see this article for discussion and recipe using this technique, http://smittenkitchen.com/blog/2009/08/lighter-airy-pound-cake/. and the guy credited for the adapted recipe, james beard, he's a pretty famous chef (master) and has been in print for a long time.
structure of the crumb looks like cake flour. compare above recipe to this, http://www.epicurious.com/recipes/food/views/1-2-3-4-cake-51128010; same guy referenced using the same technique in both recipes (soft meringue folded into batter). maybe try a mix of cake flour and all-purpose? and maybe try sifting multiple times?
google found a business document, http://melissa1shaffer.weebly.com/uploads/2/2/8/5/22851166/ali_morrisey_and_olivia_murphy_nothing_bundt_cakes.docx, which states cake mix needs locally supplied eggs, milk, and butter. eggs, check...butter, check...milk, interesting! perhaps this mysterious bundt is more like a compact cake disguised (baked in a shaped pan) to look like a bundt? you could try adding a bit of milk/buttermilk/lemon-soured-milk to the batter.
as far as the icing goes, the unique flavor could be as simple as a particular brand of cream cheese; it should be something local though. as an observation, I don't think it's shelf stable but rather perishable...'n-b-c' website shows care instructions that state to keep cake in refrigerator storage, http://www.nothingbundtcakes.com/care-instructions, and per the e-tour video, http://franchise.nothingbundtcakes.com/, it looks like very soft frosting. if it had enough powdered sugar to keep it from turning it would be stiffer and crusting? have you tried a unsalted butter/cream cheese mix with less powdered sugar? maybe even a hi-ratio/cream cheese/powdered sugar mix? is there maybe a bit of lemon in it to add some tang?

@virago~~Will you marry me?
Sounds like an awesome science experiment! Apti post results and failures please... doc ordered me off the sweets, so trying HARD to limit temptations, or I'd bake up 4 or 5 variations myself......
Way to go @virago
Apti, I was going through my recipe box today and found a cream cheese pound cake recipe if you want it. It's hand written and marked as delicious. I'm assuming it's from my grandmother on my Mom's side as she did the southern cooking. My Dad's mom did all the Italian stuff (and cookies). Here it is:
Cream Cheese Pecan Pound Cake
1-1/2cups chopped pecans
1-1/2cups butter, softened
1-8oz package of cream cheese, softened
3 cups of sugar
6 eggs
3 cups of sifted flour
Dash of salt
1-1/2 tsp vanilla extract
1. Sprinkle ½ cup pecans in a greased 10-inch tube pan, set aside.
2. Cream butter and cream cheese. Gradually add sugar, beating until light and fluffy. Add eggs one at a time, beating well. Add flour, salt stirring until combined. Stir in vanilla and remaining cup of pecans.
3. Pour batter into prepare pan. Bake at 325F for 1-1/2 hours or until wooden toothpick comes out clean. Cool on pan 10 minutes,remove from pan and cool completely.
ooooh.... that sounds dee-lee-cious! Definitely going to try this one. Thanks for thinking of me!