I'm new here, and new to baking or decorating anything other than muffins or cupcakes lol, but my girlfriend's birthday is coming up (July 1st), and she really likes playing Xbox 360. I've gotten her a couple of gifts to go with her xbox and some things having to do with her favorite game.. but I saw a few pictures of Xbox 360 themed cakes and started asking around how I could make one.
So far I've learned to make my own fondant, here:
http://whatscookingamerica.net/PegW/Fondant.htm
Let me know if that should work, or if anyone has any input about that specific recipe.. I've never made it before so please let me know
I've already traced my Xbox onto a piece of cardboard and cut it out for the basic shape, also cut out all the small patterns for the buttons/plug slots, etc.
Here are some pics of what I'm going towards: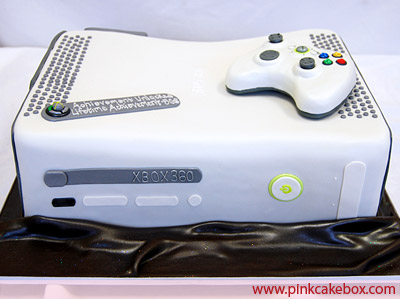 Here are some ideas I've read, but I'm looking for any better suggestions..
- Use rice crispies treats to shape the controller,
- Candy for the controller buttons,
- Upside down Hershey's Kisses for the joysticks,
- Food Coloring 'Paste' rather than liquid?
- Pizza Cutter for cutting fondant
I've never worked with fondant before, but I'm kind of a perfectionist when it comes to working with my hands so I think I could get the basics down. I'd like to have the sides gray like a real Xbox 360, so I was wondering how I could do that.. maybe cover the entire thing first with the gray, then lay the white over the top/front/back then trim any excess off the sides? Any suggestions on tools/supplies? I'd also like the cake to be sitting on something that looks nice as well.
Also, the top and sides have a TON of air holes for cooling, I was wondering if anyone has tips on getting straight lines to poke multiple rows of indentions/holes.
Sorry if I asked a ton of questions all at once, but I have a couple weeks now to practice and get ideas and all the supplies together
I think she'll love it, even if it turns out nowhere near as great as I'm imagining haha. I think I'm going to use an actual game case and put white paper inside of it to make a custom card to sit next to the cake, any ideas are welcome! Thanks everyone!