Pink sugar roses and cute gumpaste kittens; vintage tea parties and warm scents from the kitchen; three-layer cakes covered in buttercream: these are a few of our favorite things!
As editors of Cake Central magazine, we come across so many awesome, inspiring things while working. From users to cake creations to wedding inspiration to cool new products, we want to share a few of our favorite finds with you every week.
Here are our faves of the week:
Jackie's Faves
It may just be a practice cake by DesireeA, but the fun and interesting fondant circle technique is always so much fun!

This high-heel gumpaste shoe is fun by irisrezoagli, sexy and delicious.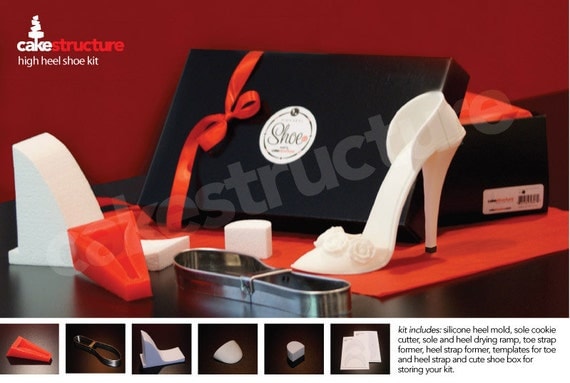 You can make your own high-heel pumps quite easily using this great kit from Cakestructure on etsy for only $49.95.
Justine's Faves

This fun wedding cake from MarisParis is so pretty! I love the variety of flowers paired with the chevron. The pale pink and teal colors are perfect with the bold pop of gold.

Sage and light pink is so hot right now, and this ruffled cake by DeliciaDesigns is a great example of how to use it on an elegant one-tier cake.
Andi's Faves
There's something about a topsy-turvy cake that perfectly suits Alice In Wonderland. I love the way the details venuscakes included immediately bring to mind the whimsical feel of the story.
I've had pink on my mind, and this cake by CJ Sweet Treats instantly caught my eye. The cascading flowers on the cake create a beautiful line.